It's all good
It was one of those weeks where today, I looked back and thought...not too shabby.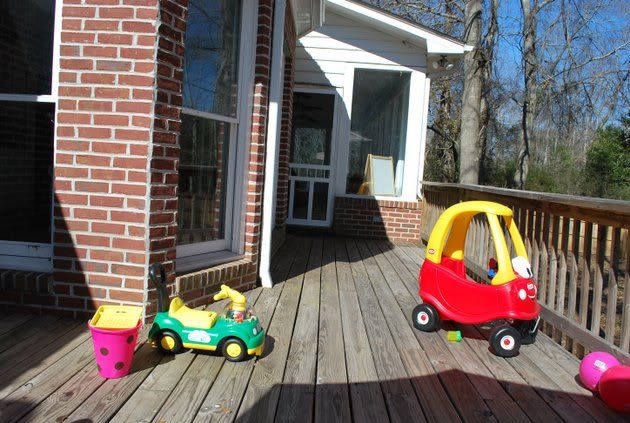 Let's start, with the fact that the weather was pure awesome.
I'm sure it's a safe bet to say we spent more time outside than in this week.
And I can say it's done wonders for this soul.
And this little soul.
She loves playing outside and that makes for a happy mamma.
By the end of the week, the temperature was in the 70's.
I was running around in flip flops and Olivia was running around pantless.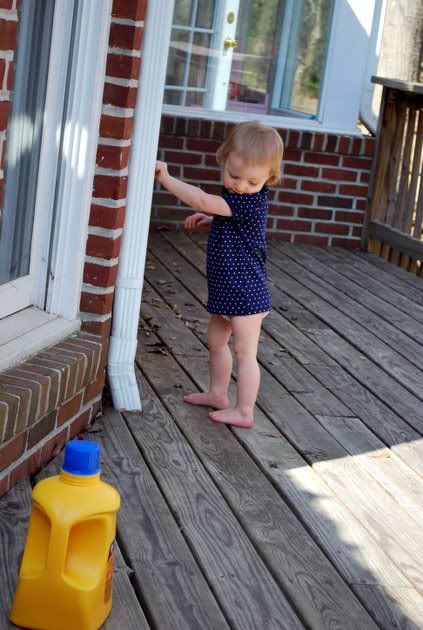 Uh...when did that little girl get so big????
Most of the time, we play out front, but earlier in the week I decided to put the baby gate on the back porch and prop open the back door. By the end of the week she was confident enough to go out and in on her own. She was happy with her new freedom and it made for some peaceful days.
Grandma came back Wednesday night to join us for the rest of the week.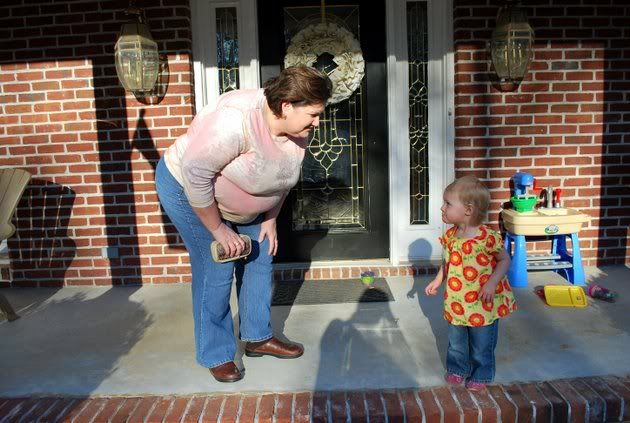 It makes me happy to see that even though she only gets to see her grandma once a month, that she still has that special bond.
She loves her Grandma.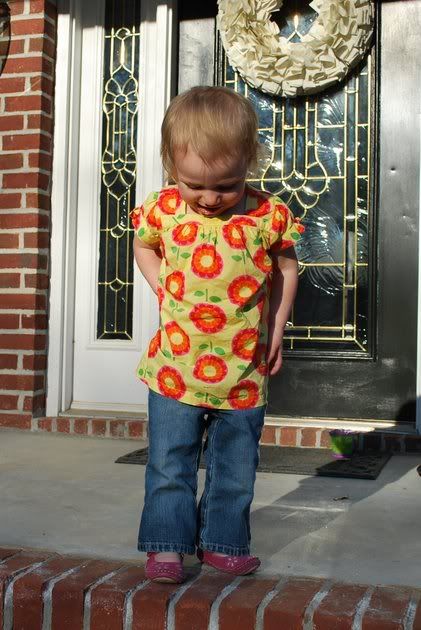 Thursday we went and had a Grandma/daughter/granddaughter day.
We went for lunch and did a little shopping to get baby girl a few warm weather clothes.
My baby is now wearing a 3T in t-shirts!!!! That navy shirt a few pics above is a 3T!
I told y'all I live with baby Shaq.
Thursday night, my mom offered to keep baby girl, so David and I could go out on a date.
A couple of weeks ago, the waffle gave David a gift card to Outback and we decided to go ahead an use it.
It's always nice to go on a completely free date!
We ended our date night with the usual...the bookstore.
I'm pretty sure 9 out of 10 dates for us involve going to a book store at some point and time during the date.
In our pre-child days, we would go a couple times a week usually.
Now for some reason it's just not as relaxing when your wrangling a baby.
So we reserve the bookstore for dates now.
We're dorky like that.
This kid is suddenly obsessed with desk lately.
She turns any little table into a desk and is always got some important stuff on it.
Friday morning, after two unsuccessful attempts, I made us three girls pancakes for breakfast.
And then my mom and I sat around in our pajamas all morning just talking, while Olivia played by herself.
We haven't sat and talked liked that in a while.
I enjoyed it immensely.
We talk on the phone almost every day, but there's something different about sitting in the same room and just the two of us talking with no interruptions.
I'm so thankful for how much our relationship has grown since Olivia came into this world.
After my mom and John headed back up to Nashville, we headed back outside and played until the sun went down.
Friday afternoon, the mail lady came and it was like Christmas!
For me at least.
My lens, lens attachment, and bookclub book all came on the same day.
A bill came too, but I just hand those over to David.
I've only spent a few minutes playing with my new toys.
I can definitely tell a difference with the new lens, but it's going to take some time getting use to it since it's not auto focus and I have to move my feet to zoom.
But I'm excited to finally be expanding my collection.
The rest of the weekend is supposed to be just as gorgeous, so we're planning on spending the rest of it outside and soak up as much as we can...just in case it cold again.
Hoping everyone has a wonderful weekend!