A big night in the Big City!
Saturday night, we had a special night that we've been waiting months for! Back in May, around the time of our anniversary, we bought tickets to go see the farewell showing of The Phantom of the Opera the Fox Theater! We decided to not do much on our actual anniversary and to make a big night of it when the Phantom came to town with dinner and the show. We went with my cousin Aubry and her man Jeremy, because their into those kinds of things too and we always have fun with them.
Since I'm usually a t-shirt and jeans kinda girl and David wears waffle house uniforms six days a week, we decided to dress up for our night on the town. Of course, I waited till the last minute to find something to wear (i.e. Saturday afternoon), but got lucky when I scored a cute pink dress from JcPenny's for only $18!!! It's fun to get dressed up every once in awhile and we don't do it as much as we should. Maybe we should start going to see more shows so we have a reason to!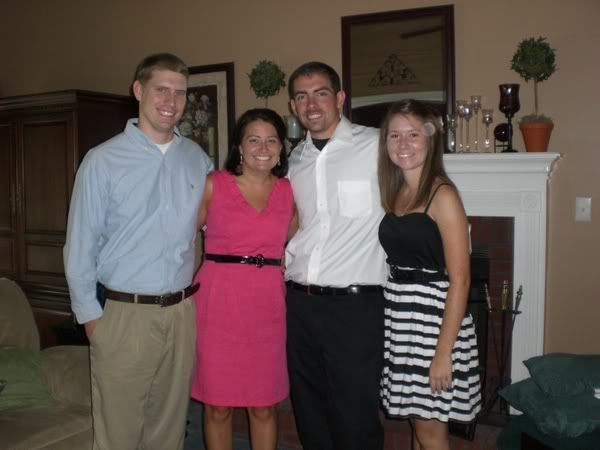 Before the show, we had to have dinner, so we headed out to Maggiano's. Aubry had been there before, but the rest of us had never eaten there. She promised us it was good and she came through on that promise. It was so yummy! We love some Italian food! Aubry and I both ordered the Chicken Spinach manicotti and it seriously melted in your mouth. We were so stuffed when we walked out, we could barely make it to the car. And for the first time in twelve years, I ordered something better than David!


After dinner, we headed to the Fox Theater. The Fox is an Atlanta landmark and full of history. It's sad to think that at one time it was in ruins and just about to be bulldozed over. Your not allowed to take any pictures inside the Fox, so I have no way of showing its beauty.


I can't say it was my favorite storyline (Hairspray is still #1), but I enjoyed it. I think I was too distracted by the "conditions" to enjoy it. First off, it was extremely hot. Evidently the air condition isn't top notch in the Fox. We were sitting there sweating, that's how hot it was. Plus, I couldn't see that well. The lady in front of me had a tall man sitting in front of her, so she had her head leaning to the side all night and right in my view. David switched seats with me about half way through and it made my view better. So, I think because of those reasons, I had a hard time enjoying it. The second half of the show wasn't as bad for whatever reason, so I started getting into it just before it ended. The music was beautiful! The music is what makes the whole show. Plus, the sets and costumes were gorgeous! It's worth going to see it just for those! Overall, I enjoyed it and glad we had the opportunity to see it.
Afterward, we dropped Aubry and Jeremy off and then headed home. David had to work the next morning, so no late night adventures for us. Olivia spent the night at her Nana and Grandpa's that night. It was her first official sleepover and I missed her like crazy. After I dropped her off, David called me to see what time I would be home and I busted out crying. He thought I was losing it since she has stayed over there once before, but I told him it didn't count since she was only a month old and they took her home at 10pm and we were there by 8am the next morning to pick her up. This was the first time she was gone for a (almost) full 24 hours. It was so strange getting up Sunday morning and not rushing to get her and I ready for church. I waited in the parking lot for them to get there because I couldn't wait to hold her. She was mad at me for the first few minutes, but she quickly got over it and was loving on me. I'm thinking this is just the beginning of sleepovers at the grandparents.
(Photo credits: Photobucket and Yahoo Images)