Some ladies are shoe women.
Others are jewelry lovers.
Then, there are bag ladies.
I happen to fall into the later category.
I
LOVE
bags. I cannot tell you how many rubber storage containers at home I have filled with purses and totes (90% of them ones I don't carry). Way too many to be honest.
I may or may not have been called a bag lady a few times in my life and there was a time in which it was not unusual to see me toting a different bag or purse every time you see me.
For several years I had been a total Vera Bradley devotee. I loved the colors and the fact they came out with new patterns twice a year. It gave me complete justified reasons to have to run out and buy new purses twice a year because, hello, you had to be carrying the latest pattern!
But for about the last two years, my love for Vera has started to wavier. I found myself not getting excited about when new patterns came out and eventually...gasp!...not running to the store first thing when new patterns came out.
Oh, and have I mentioned before that I can be kinda cheap? I like to think of it more as being thrifty, but for most purses I own, I never spent over $30 for them. I always justified to myself that I don't carry them long enough to spend that much. Vera Bradleys were the most expensive purses I would ever purchase. I would throw down $60 or $70 for a purse and not think twice about those.
In the last year, though, I've noticed a shift in my purse love. I started to notice that I wasn't happy with any of the purses I was carrying or buying. I thought I loved them, but after carrying them for a week, I was itching for a new one. Being that I have a child that I now have to share my shopping money with, it makes it harder to justify buying a new purse every week.
So, these past few months, I finally convinced myself that I was ready for one, an adult purse as I like to call it. A purse that I would spend good money on and carry for longer than 2.5 days.
Awhile back, I was taken into a Coach store by a family member for the first time. I gawked at the price tags and was amazed that so many people in the store were buying those things. I told myself then I could never imagine myself paying that much for a purse. But, I never got that Coach store out of my mind and a on a few occasions, I would tell myself that I just might buy one some day. On sale of course!
Well, last week when the hubby was here on vacation I announced that I was itching to buy a new purse. He even actually volunteered to go out shopping with me since he knew I hadn't bought a new bag in awhile. What a guy! After a check at my usual purse buying places such as Ross and Marshalls, I came up with no luck. Low and behold, there just so happened to be a Coach store in the shopping center across the street.
We headed that way and I went in with no expectations. I figured I would have to do some bargaining with David to get a Coach purse out of him. We first went into the Kate Spade store and yes, I found a few things I could have walked out with, but even with the 30% off sale, I couldn't sallow the price. We walked right out of that place and on down to the coach store. When we walked in, the lady handed me a 30% off coupon and said "today only, everything in the store is 30% off!" The purse Gods must have been shinning down on me!
Of course, I found one and with the coupon, it wasn't that bad of price. In fact, the hubby even let me throw in a purse scarf to spiffy up my new adult purse.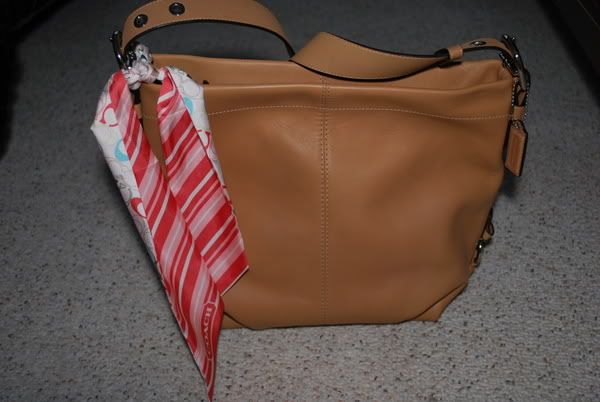 (Yes, the scarf needs to be retied, OK got a hold of it. Shocker, right?)
This is the perfect purse for me right now. It was exactly what I had been looking for. I've been liking purses that I can wear across my chest because it just makes it easier when I've got OK with me, but all the one's I've found recently are way too small to carry all my stuff. This one is the perfect size for all my stuff. I can even throw a book in there. Plus, the strap can be adjusted to make it a shoulder bag. So, on days I'm off mommy duty, I can adjust the strap and feel like I'm carrying a normal purse. Awwww.....I'm in love!
Now that I have my first official "adult purse," I don't think I can ever go back.
Now, I realize like the phone situation, I'm probably the last person besides the Duggars to jump on the Coach bandwagon, so please spare your "uh, that's so 2005" comments, because I'm still excited about it!