Halloween Mabrey Style
I was given a little grief about not really having Olivia participate in Halloween this year. My friends were a little disappointed in me when they were making Halloween plans and I announced we would be out of town.
I did buy her a costume (pictures to come when I take them), but I really didn't see the point of taking her out to trick or treat since she has no clue what's going on. I'm a party pooper, I know. I promise that we do plan on joining in the activities next year when she's two and has a little better idea of what she's doing.
We did go out of town (more on that later), but we ended up coming home a day earlier. As we were pulling back into town at 6:43pm, it struck me that we didn't have any
candy
. Though I heard a lot of people were knocking on doors on Saturday night, I didn't want to be caught with no
candy
since its our first Halloween in our neighborhood. David made a mad dash to the Pig and luckily made it home before our first trick or treaters knocked on the door.
I'm glad we decided to stay home this year, because Olivia had a ball with the trick or treaters.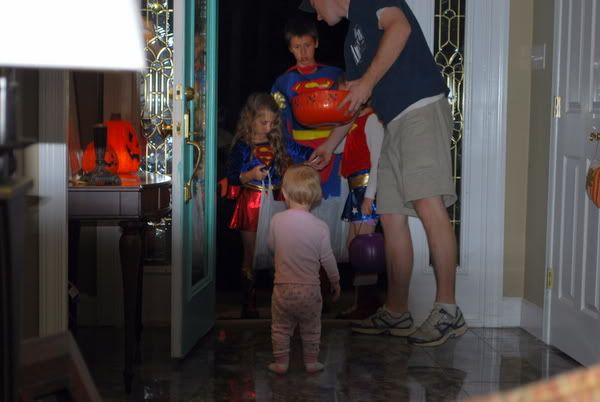 She stood by the door all night waiting for the kids to knock and helped David hand out the
candy
. She talked to every single kid that knocked even though they looked at her like she was crazy since they couldn't understand her babble.
Plus, she waved goodbye to every single one.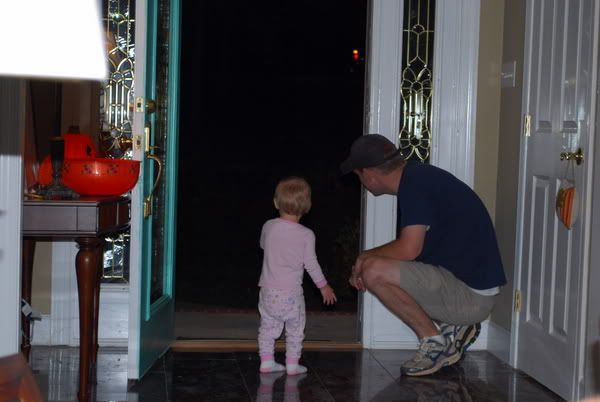 I'm pretty sure she was also yelling at them to come back.
Except for this one....
Olivia wasn't to sure about this little girl's costume and refused to go near her.
I can't say I blame her. That poor little kid.


Hope everyone had a great Halloween!