Most Thankful
At the MOPS meeting earlier in the month, we had a inspirational speaker that gave us a little assignment. She gave us a sheet of paper and asked us to write down words that described our lives. We didn't have to share with anyone, so we were encouraged to be as honest as we could, and write the good, the bad, the ugly. We were then asked to mark out the words that we no longer wanted to see present in our lives. Out of five or six words, I only had one word I wanted marked out. The more I sat there and looked at that sheet of paper, the more I realized...I'm blessed beyond words.
Yes, it's easy to say, but how many times do we say it and REALLY mean and understand it?

As I sit and started to type out what I'm most thankful for this Thanksgiving, I decided it can be summed up in two words....
MY LIFE.
No, my life may not be perfect, but I've realized I do not have much to complain about, if anything at all. In the last year, I've been blessed beyond words. God has given me a life that I only dreamed about and that most times, I feel I do not deserve.
Of course, I feel that two words just aren't enough for a blog post, so here's a little more detail of what I'm most thankful for this Thanksgiving.

1. My Job- I've always wanted to be a stay-at-home momma or at least be able to try it. It for sure, has not been what I expected and it's taken me some time to get comfortable in my new role, but I wouldn't trade it for the world. I love being Olivia's main caretaker and at this moment in her life, the center of her world. I love that my family is my job and I'm proud to say that when asked "what do I do?". I find joy in having a home cooked meal on the table and a clean house everyday when my husband walks in from work. I'm so thankful, that even in economic times as these, I have the opportunity to do it and to be able to sleep at night. Even more, I'm thankful that I have have a husband who supports it and believes in it's importance as much as I do.
2. My Home- Our house is no longer a big empty space that I feel like I'm trying to fill up. It's starting to become our home. It's now becoming filled with memories. Memories of Olivia's first steps, memories of dinners with friends, and funny stories, like this one. It's becoming the home that we will raise our family in. The home our children will one day share stories about when they reminisce about their childhood.

3. My Parents- Parents who were parents when they needed to be (and in those times that they still need to be). Parents who in the last few years that have become friends. Parents who tell me on a daily basis how proud they are of me and what an awesome daughter I am. Some days, I feel like I don't live up to the credit they give to me. Parents whom seem to know to call at just the right time. The times when I need to hear someone say "I love you and am proud of you." Parents that I wouldn't trade for the world.

4. My In-Laws- People who aren't required to love me, yet they love me like their own. They've always gone above and beyond for us, even in those moments that we probably didn't deserve their kindness. A Mother-in-law that has become one of my best friends and a Father-in-law whom I know I could call for anything and he would be there no questions asked. They are amazing people and I am so thankful I landed a spot in their family.

5. My "Sister-wives"- Yes, we call each other that because like the sisterwives on that famous TLC show, we share our lives together on a daily basis. The only thing we don't share with each other is our husbands. Due to some silly high school drama from a few girls in high school, I never had too many girl friends growing up. After silly sorority girl drama in college, I had written off girl friends. I didn't see the point in them since it always ended in drama and tears. However, the past year and a half, I've learned just how important those girl friend relationships are. I can truly say that I now cannot live without my friends. Most days, I feel like I don't deserve their friendship, but they keep calling back everyday and that I'm thankful for.
6. My Daughter- She makes me laugh till I cry, she keeps me on my toes and running in circles, she makes me plain out cry, she makes me want to scream one minute and laugh the next. This little girl has taught me more about myself than anyone. The love a parent has for a child is like no other and cannot be compared to any other love (sorry to my friends with fur babies, it's not the same and never can be. I speak from experience being a former fur baby lover myself). I love this little person with every cell in body. So much so, I ache. The saying "when your a parent, your heart walks outside of you." is sooooo true. My heart is about 21lbs., climbs onto everything, and loves her condiments.

7. My Marriage- Sadly, this past year has brought many trials to those marriages around us. Watching others go through their struggles has only made me realize just how thankful I am for my marriage. My marriage is not perfect by any means, we have our issues like any other one, but it is fulfilling, it's a partnership, it's a strong, it's full of love. We're constantly working on it. It's never a "you" or "me" reference, it's always "we." I grew up watching relationships around me falling apart, I'm so thankful that God has given me a solid marriage that I know I can put my faith in.

8. My Husband- Wow, tears came to my eyes just typing those words. My husband is AMAZING!!!!!! Y'all have no idea and words could never express just how amazing he is. He is the perfect man for me. He understands me like no other. He loves me unconditionally, he loves me at my most lowest moments and my best. He is a man that took those vows he said five years ago to heart and holds true to them everyday. He tells me a hundred times a day that he loves me. He's real with me. He works the equivalent every week, of almost two full time jobs and sacrifices his weekends and EVERY holiday to provide the life he does for Olivia and I. Something that I never asked or begged him to do. Something he does because he wants to see Olivia and I prosper. He is my rock, my Lover, and he's made my dreams come true.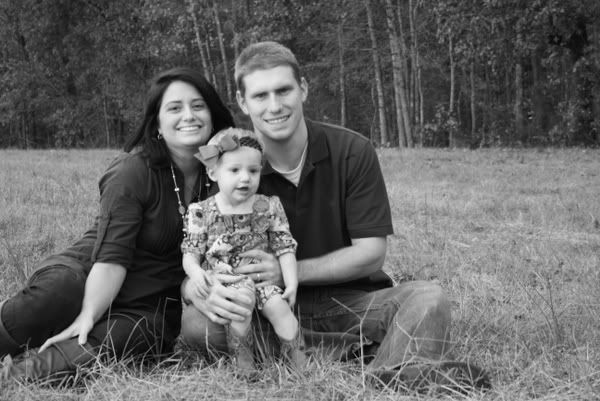 We're off to celebrate Thanksgiving with our families. I am also thankful for all of my readers on this little blog!!! Hope everyone has a wonderful Thanksgiving!!!