This week.
Hi. Remember me?
I kinda failed to mention last week that I was having my wisdom teeth removed earlier this week and most likely wouldn't be around.

Though if you follow me on facebook, you already know because I have been successful in complaining about it all week long.

Though I really shouldn't complain, because over all its been a relative easy experience, even though I had all four removed. However, I am pretty tired of the left side of my face being swollen and looking like a chipmunk.
And I really want to eat something that I have to chew. I've pretty much have been living off of mashed potatoes, ice cream, jello, and oatmeal the last three days. I'm dying for a good ol' Chick-fil-a sandwich right now.
David has been on vacation this week and we usually plan our Spring vacations to be stay-cations in order to try to get some stuff around the house done. Besides having my teeth removed, our big project this week was to get our garage cleaned out and the 2nd garage door in working order. There was just enough room to park my car on one side of the garage, but the other side, you couldn't even see the floor because there was so much junk. I should have taken a before picture to show just how bad it was.

After two years, the right side garage door was opened for the first time since we moved in. We had to replace the entire door and buy a new opener, hence the reason it took over two years to fix.

It was kinda weird to see them both open like that.

We did manage to get a little fun time in on Monday before my teeth removal. We took Olivia for her first Build a Bear experience. Of course, she was afraid of the stuffing machine and the washing station because they made loud noises, but I think overall she enjoyed it.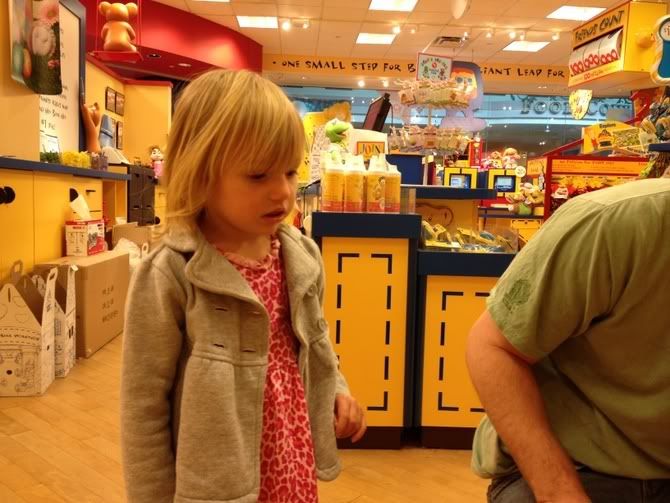 Daddy was just thankful she picked out the cheapest bear they offered all on her own.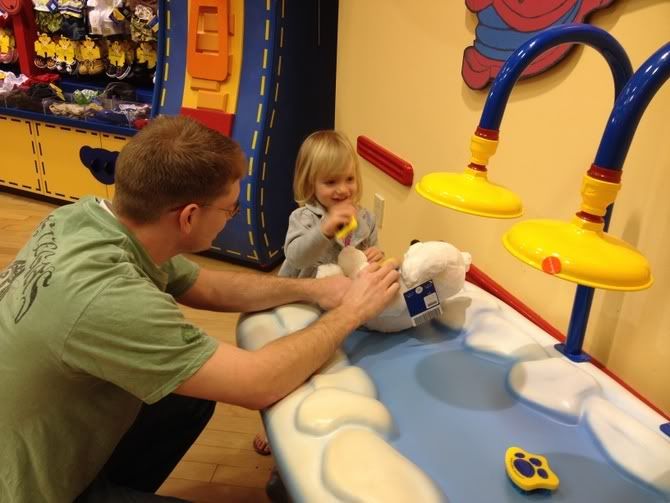 Of course we had to go with the "kitty" outfit. I swear the kid is a cat lady in waiting.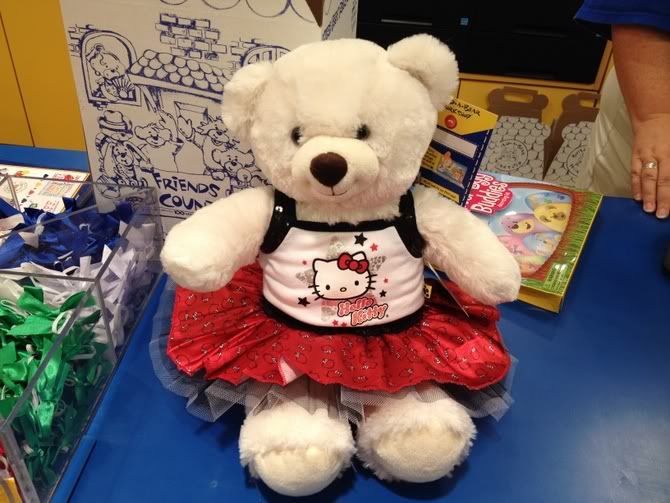 I was so grateful that my mom got to come down Monday to help out with Olivia over the last few days. I didn't get any pictures of them together since I was pretty much out of it, but I know she got spoiled the past few days. My mom headed back to Tennessee this morning while Olivia was at school and I'm sure its going to be a let down when she gets home and realizes Grandma is gone.

So, that's what we've been up to this week.....cleaning out garages and having wisdom teeth removed. Such a luxurious life I lead! : )