The Next Chapter-December
Since I was the only one who brought my camera, it looks like I get to recap this months bookclub.
We had bookclub last night and I can say, without a doubt, I love bookclub so much. I know I say it every month, but it really is on the top of my list of favorite nights of the month. If you don't have one, you need to get a bookclub. Even if you don't read. Most of the time, we have people who don't even read the book but yet, still come just cause they love it so much. Except last night, everyone read and finished the book. I think that's a first in bookclub history.

Darlene (Nicole's Momma-in-law) was in charge of this months bookclub. In fact, a couple of months ago, when we realized that Darlene would have Decembers meeting, Nicole and I got really excited because Darlene's house is gorgeous during Christmas. Don't get me wrong, her house is always gorgeous, but at Christmas, it's even better. I love her house. Maybe it's because she's a Nana or something, but her house just always feels like home. You know what I'm talking about?

And this is what we ate off of....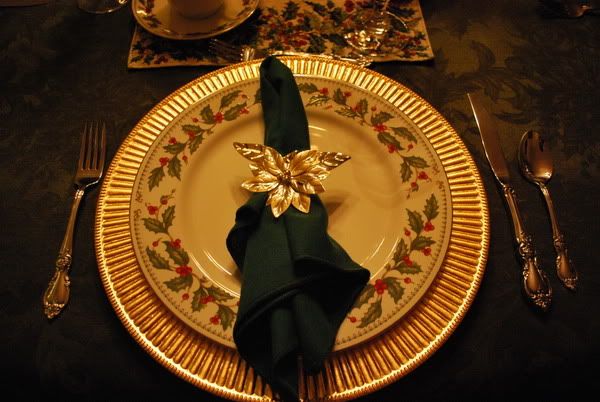 I felt fancy.
For the record, those green cloth napkins were the softest napkins I have ever wiped my face with. Seriously, they were like wiping your face with a cloud.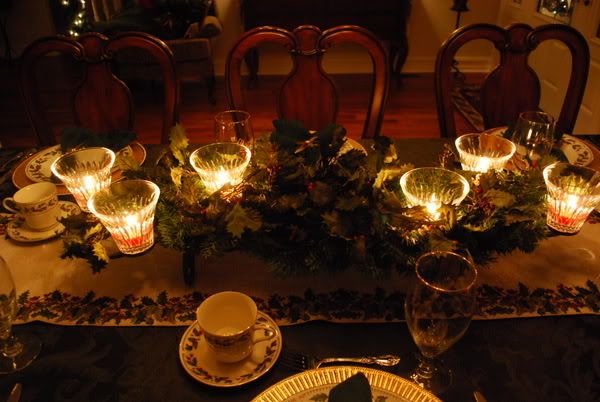 I came home and told David that I without a doubt wanted to have a formal dining room now. We do have a empty room that is refereed to as a dinning room, but we've been debating back and forth whether to make it a dinning room or an office. I want to start having fancy dinners with all the trimmings like Darlene does. Even if I only use it for bookclub, it always makes dinners feel a little extra special.
Not only is Darlene's house and dinning room table gorgeous, she's an awesome cook too. In fact, I get to hear on a regular basis about her yummy cooking. I've tried several times to invite myself over for their family's Monday night dinners. I'm still waiting for my standing invitation, but I might just start showing up.
She made chicken pot pie and it was wonderful.
It was freezing (for us Southerners) and the chicken pot pie hit the spot. She also made a giant pot of wassail (???? I'm sure I'm totally not spelling it right). I'm not usually a big cider person, but it was perfect for the cold night.
Of course, no bookclub meeting at Darlene's is official with her famous chocolate cake. I even saw people putting in request on facebook for her to make her chocolate cake like two months ago.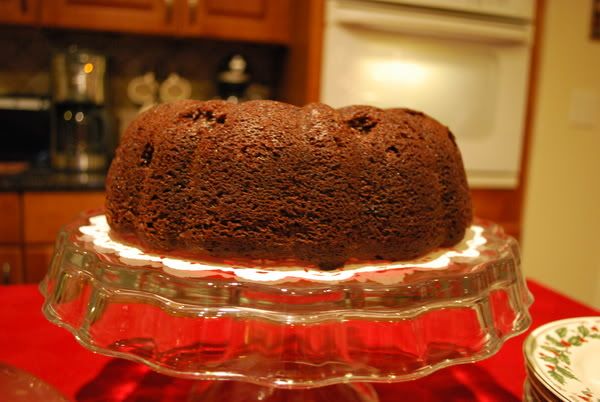 This stuff is heaven in a bunt pan. This cake has officially become my favorite since I first had it over the summer. Anytime Nicole tells me she made it, I now demand her to bring me a piece. It's so yummy. You unfortunately cannot understand it's greatness until you've had it.
I guess I should mention this months book.
We read
Finding Noel by Richard Paul Evans
. It was a good little book. We all finished it and everyone enjoyed it. It was the perfect pick for the holidays. If your looking for a light, good, uplifting holiday read, I highly recommend it. In fact, half way through, I realized I had already read it and I still finished it the second time around.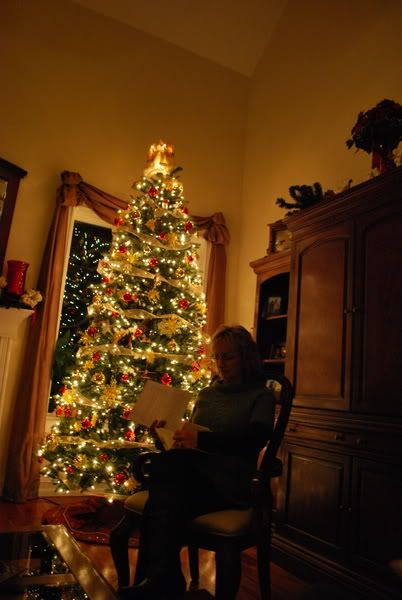 Thank you Darlene for a wonderful night! Everything was perfect. In fact, I vote regardless of our schedule, December bookclub should always be at your house.
I'll see you on Monday for family dinner!