Disney Fort Wilderness: Also known as the place I never wanted to leave
I haven't been sure how to exactly tackle our Disney experience, so going on the questions I've been asked repeatedly since we've gotten back, I figured I would break it up in two parts....Our stay at
Disney's Fort Wilderness
and then our experience at the parks.
I'll throw in some advice throughout since I've been once now and you know that makes me a certifiable expert in my mind.

I may have not mentioned it before, but we're campers. We love us some camping. I personally did not become an official "camper" until I started dating my husband. Besides a one time overnight trip in the church's backyard with my dad's boy scout troop when I was four, my camping experience was zilch. However, after 12 years of hanging with the Mabrey's, I'm hooked. So much so, I've been begging for a camper of our own for years now.

Yes, I'll go ahead and clear up the fact that when I say camping, I mean camping in a camper with a toilet, running water, and a heater/air condition. I know lots of people argue whether that is really considered camping, but let me just say....go to any camp ground in the United States and I will guarantee you campers will out number tents.

We've been hearing for years now in the camping world that there is no camp ground in the South East that rivals Disney's Fort Wilderness. We were told that even if we didn't go with kids, we wouldn't be disappointed.
I have to say that it lived up to and exceeded our expectations.

This was home for the week.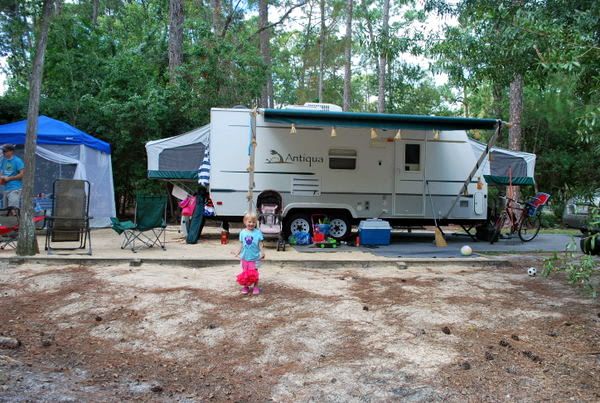 Olivia has been camping once before, but this was her first time to really get to enjoy the camping experience. She loved every moment and we're proud to say she's a camper. She loved being outdoors constantly and all the activities that we usually partake in when camping. She loved the fact that there was sand all around our campsite. I'm sure it was a big litter box for all the squirrels, but the kid was in heaven and I wasn't about to kill her joy.

Also, after this trip, I'm pretty convinced the child will either become a archeologists or a race car driver.
This was our main mode of transportation for the week.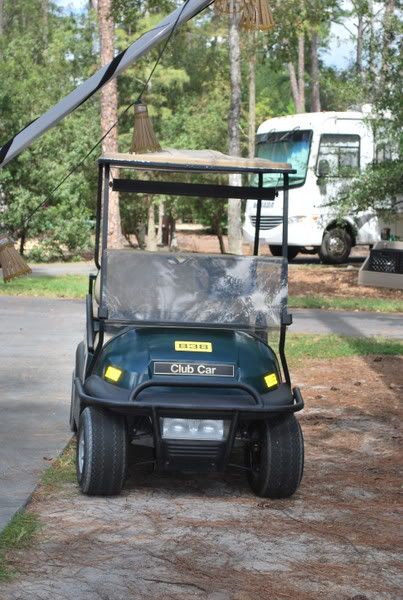 They pretty much have a "park it" policy when it comes to cars around the campground. We decided to rent a golf cart to make it easier to get around the resort and it was easily hands down Olivia's favorite part of the week.
All she wanted to do was ride around. It's safe to say we got our money's worth out of the golf cart rental. One of the cool things was that a lot of the "grandparent" aged people who I'm pretty sure live there full time, all had there camp sites decked out with Halloween lights, blow ups, and other decor. Every night we rode around and looked at lights. I couldn't believe how many had decorated for Halloween. I would love to go at Christmas just to see how much they decorate. Kids of course loved it all.
The resort was also filled with bike trails. We bought a child's seat before we headed down and this was the first time Olivia got to experience bike riding. The dare devil in her loved it. She would continuously ask to "ride bike."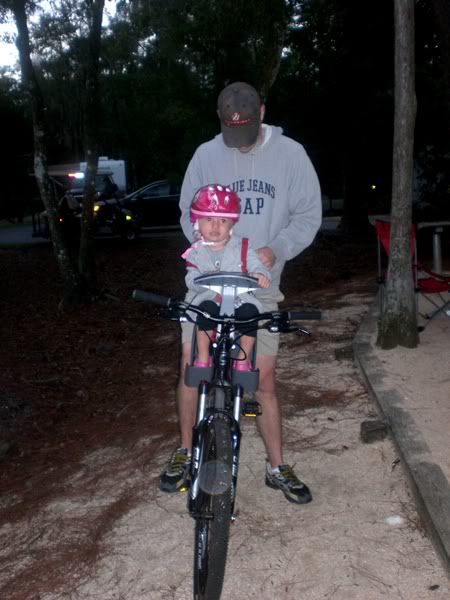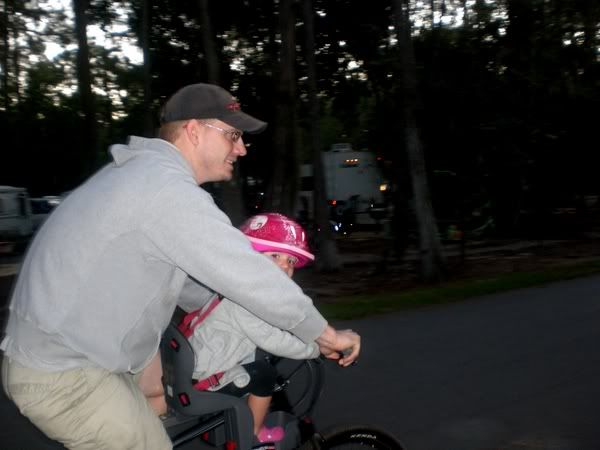 Every night, the camp ground host a sing-a-long the campfire and shows a Disney movie. We went two nights to the sing-a-long and made the movie one night for a short bit. The movie didn't start till 8:40pm, so it was hard for the little one to stay awake long enough.
We learned that Big Dave can really get into some hokey pokey
Also from the resort, you can see Epcots nightly fire works display.
I know this picture is a little strange, but its too sweet to not post. While watching fireworks one night, the little one finally gave in.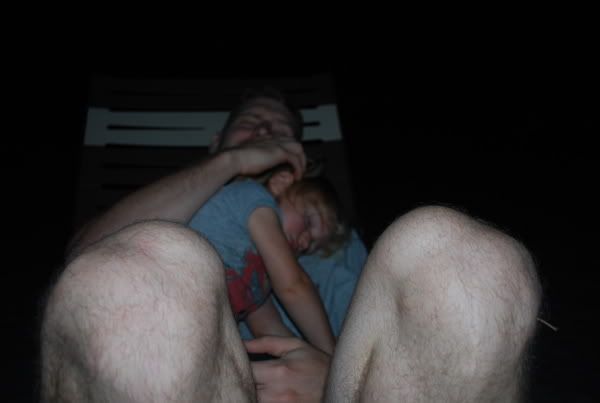 Of course, the highlight of our trip was the pool. I didn't get a good shot of the entire pool area, but believe me when I say it was nice. They do keep their pools open year round and they are also heated. They had a huge normal pool with a decent size slide, a baby pool, a inground hot tub, and a aquatic play area for smaller children.
Olivia loves to swim and the play area was just her size, but she refused to go down the slides without someone with her. I think its because there were a few bigger kids that had no problem knocking people over or jumping in front of pictures.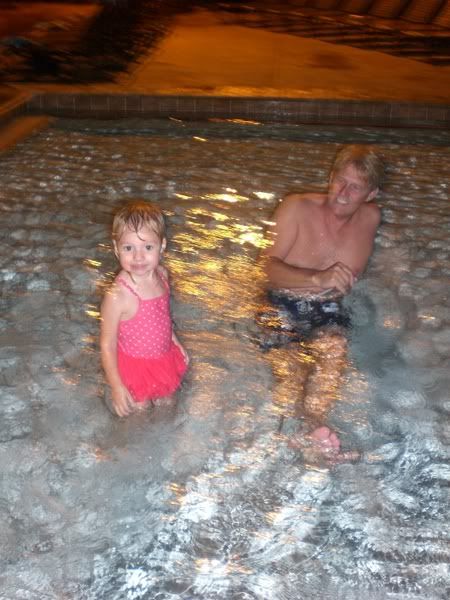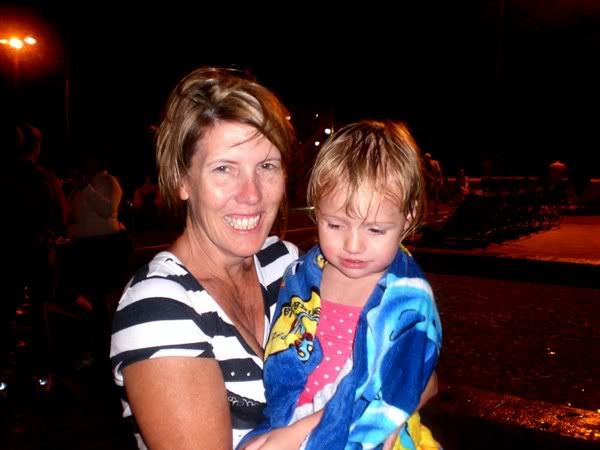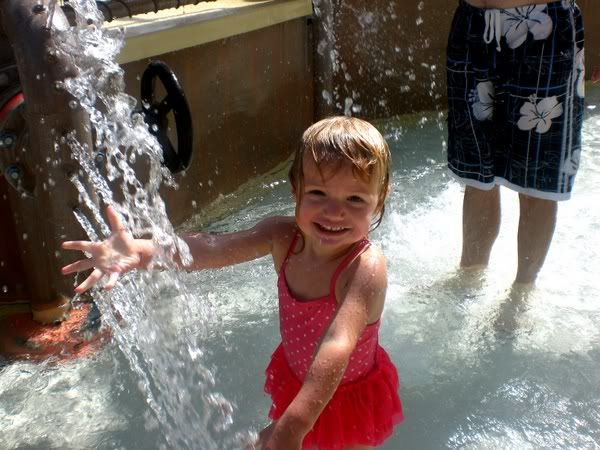 It was our first time ever staying at a Disney Resort and I have to say, I don't think I'll ever be able to go back and not stay at one. The Disney people do everything to go out of their way to make you feel welcomed and to make sure everything is taken care. Minus the whole towel animals wearing your sunglasses on your bed at night thing, it's pretty similar to a cruise.
The best part is that we literally parked our car the day we got there and didn't move it till we left. They offered bus rides or boat rides to get to the parks & other resorts and that just seemed to make things so much easier. Plus, just a little FYI for anyone planning a trip to Disney....on top of your tickets into the park, you have to pay on average $20 a day to park at each park. So the fact that we got to ride Disneys transportation to and from the parks saved us $60 plus a little gas.
Also, along with the camp fire sing-a-long and movie every night, all day long they were offering games or crafts for the kids for no extra charge. I can't wait to go back with Olivia when she's old enough to enjoy those things, the kids participating (and there were always a ton of them), seemed to be having a great time. It was all done up in Disney style.
I know when you think of Disney, you immediately think of $$$ signs. Yes, Disney in general can be a little pricey. I know there are a ton of info sights on how to do Disney cheap, but we honestly didn't look too much into those. We knew were we wanted to stay before we knew what parks we wanted to go to. If your into camping or can at least deal with camping, I would highly recommend going the Fort Wilderness Route. You get all the perks of the more expensive Disney resorts, but at a fraction of the cost. For four nights and five days of golf cart rental, we paid less than $500. That was what one night at some of the resorts cost. I know not everyone can deal with camping, but if you can, it's totally worth it!