Playdate at the Park
On Wednesday, we had a playdate at the park with my friend Lindsay and her baby girl Sadie.
It might sound crazy, but I'm fairly certain that I hadn't seen Lindsay since before David and I were married, so that means it had to be close to five years. Like most others now a days, we have kept in touch over the years through
facebook
. Oh, and someone asked me the other day how we knew each other? I guess you can say we had mutual friends that introduced us. When they asked, I was kinda like...I don't really know how I got to know Lindsay, but once I thought about it, that's the easiest explanation there is.
Come to find out Lindsay is one of my closet blog readers.
Say Hi to Lindsay everyone (she's reading)!
When Lindsay called to see if I wanted to get the girls together to meet, I jumped on the chance. Yes, I'm a complete dork and I have grand plans of finding my baby girl best friends now so when their adults, they can reminisce about how they were in diapers together.

In all seriousness, Nicole posted a couple of weeks ago about a conversation we had about those who influence your kids and how we as parents have full control over those. David and I have already had some serious conversations about who we want to be influences in Olivia's life and we know that Lindsay and her husband are raising Sadie with the same beliefs and values we are raising Olivia with, so I was super excited to reconnect and have the girls finally meet.

We met at a local park and I was a little nervous because we have never taken Olivia to the park to play on the playground. Of course, she was loved it.

I'm sure you can guess who was climbing all over the place, regardless of the bigger kids whose way she was completely in. I will say the bigger kids who were there were very good about watching out for the littler ones. Kuddos to their parents.


Sadie was trying make friends this little girl. I think it was the tinkerbell tshirt.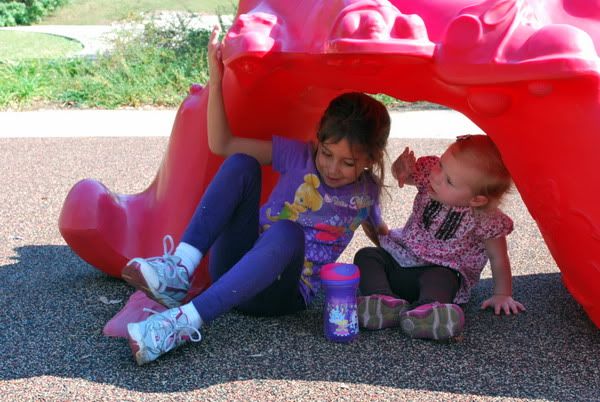 Unlike Olivia, Sadie was more into playing it safe and staying on the equipment closer to the ground. See, maybe she could be a good influence on Olivia?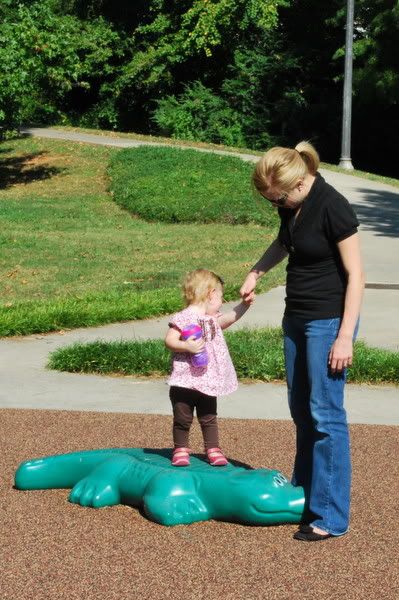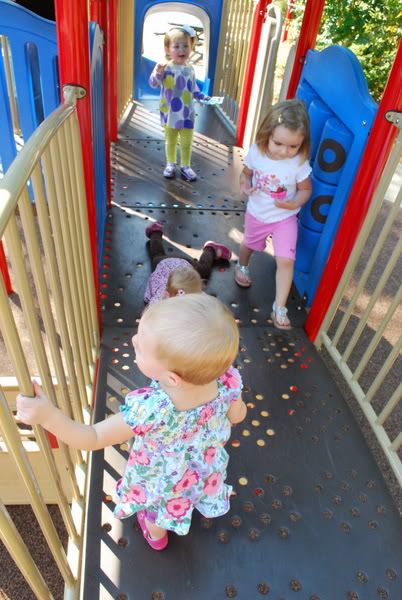 This little girl was a hoot. Lindsay and I were sitting on that little brown bench trying to stay in the shade when the little girl kept telling us she didn't have enough room for who we're assuming was her imaginary friend. Basically she was telling us to get out of the way.


After the park, we took the girls to lunch at Chick-fil-a and got more of a chance to catch up. We decided that next go round we would definitely meet at one of our houses since the girls didn't get too much interaction with each other.

When we got in the car ready to go home....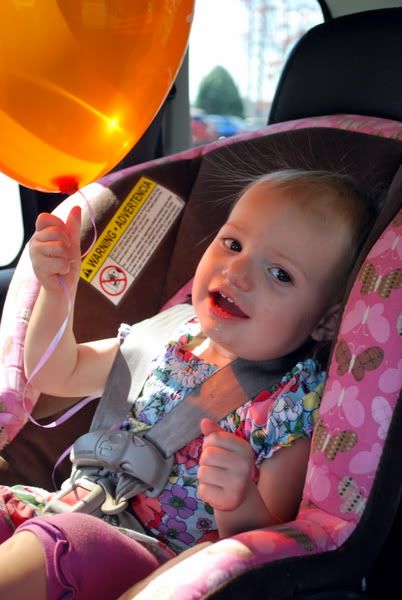 And after the ten minute drive home...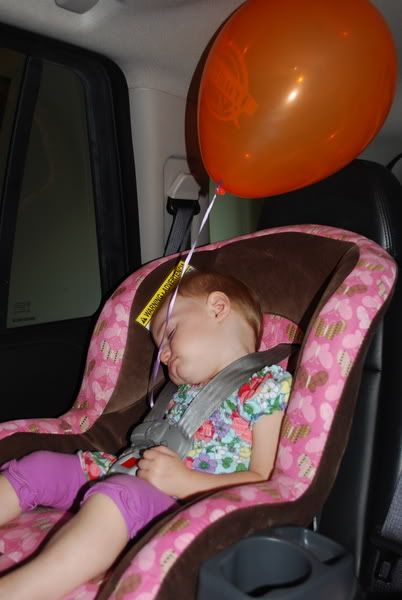 Thanks Lindsay and Sadie!!! We had a great time and cannot wait to do it again!!!