"Oh, we could do that in two weeks..."
Those are the famous last words of my dear husband when I asked him how long it would take to redo the built-in
entertainment
center in the living room.
Fast forward three months later and it's finally done.
As you can see in the before pic, there had been a little bit of vandalism (the while paint spots) to the thing while the house was sitting empty for a few years (most likely to bored teenagers or something, we live in a safe neighborhood and I feel very safe here). Plus, we were not huge fans of the honey oak wood stain. No offense to anyone who is, it's just not our cup of tea. Also, the house was built in the mid nineties when flat screen televisions were not even heard of yet, so the space for the box tv would never be used by us. Our goal was to make the entire thing function for us.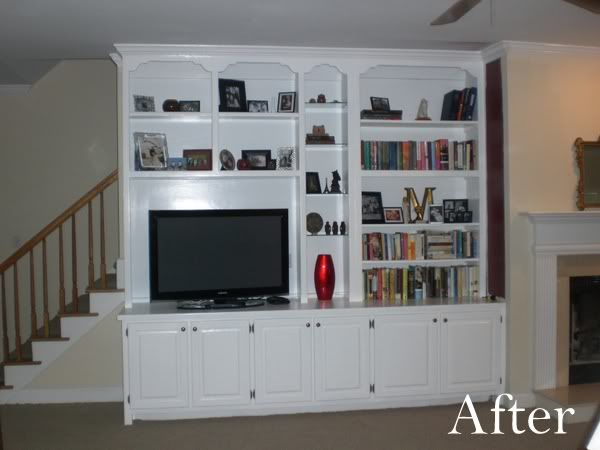 TA-DA!!!
As you can see we painted the entire thing white. I love the look of painted furniture and I love the crisp look that white gives. We also spray painted the brassy gold hardware a bronze color. As far as the structural changes, David and his dad realized that the box tv holder was actually it's own separate piece, so they took it off and cut it to match the same dept as the other half. Then they redid all the trim around it. Lastly, they added three shelves to make the old tv space a bookcase instead. All we had to buy was new trim for the top and two gallons of white paint (yep, it took that much). The wood to make the shelves for the bookcase side were remnants from the box tv holder.

I know your jealous of that maroon paint color on the wall that we discovered when we removed that side of the entertainment center! Doesn't that doesn't scream mid nineties?
Our only other big project this year to tackle is painting the living room. Then we'll take a break with the big projects till 2011.