Flowers
After Nicole posted about our
crafty day
on Tuesday, I noticed a couple of questions on the flowers that Amy and I made, so I decided to let y'all in on our newest craft craze we're loving.
I've been loving the flowers you pin to clothes for awhile now. I've been searching for tutorials that a beginner could do because of course I wanted to make some of my own. I just so happen to come across both of these tutorials within days of each other. They are both super simple and they are very beginner friendly. To make either flower, all you need to do is know how to work a pair of scissors and a hot glue gun. No sewing is required for either!!!
The Flower Corsage can be found at
V & Co.
The tutorial is
here
.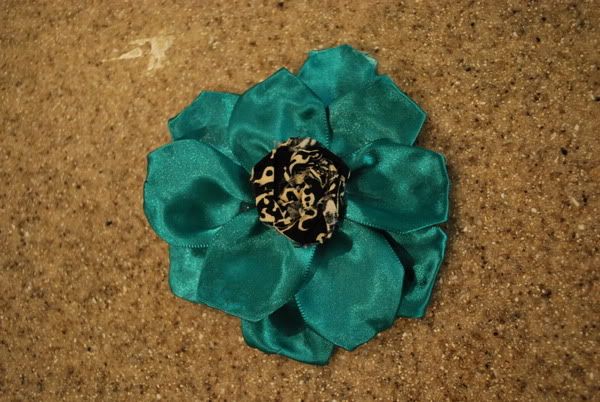 I honestly wasn't as impressed with this outcome than I was with the other flower pin I'm posting below. Just something about it didn't work for me. I'm thinking it's the satin. I've started playing around with different sizes and I'm wanting to try it with actually fabric instead of ribbon. If I come up with the outcome I vision, I'll post it later.
The flower rings (and the center for ribbon flowers) can also be found on V & Co.
here
.
I really LOVE these rings. I'm loving the big flower ring craze at the moment and I've already bought one, but don't have the funds to buy one to match every outfit. I thought this was a great cheap alternative that I could do in a bunch of colors. I cut a small strip of fabric from all of Nic's scrap fabric to make more, now I just need to buy more of the adjustable rings. These too are really simple to make and only take about five minutes.

These flowers however, are my absolute favorite and Nicole didn't even get a picture to post on her blog.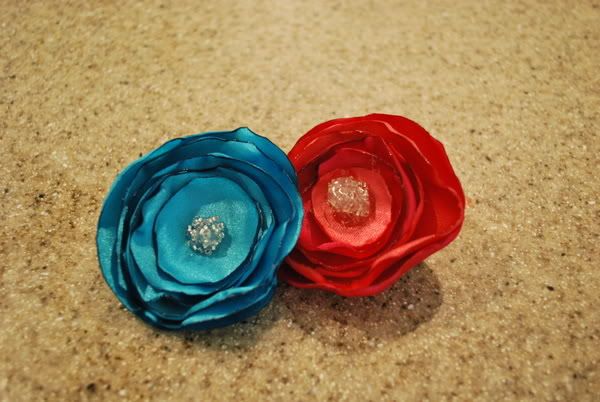 These Satin Flowers can be found at Make it and Love it. The tutorial is here.

These you actually use satin fabric, but it comes out with such a different sheen than the ribbon. Satin fabric is cheap. I bought a half a yard of each color ($1.50 for a half yard at hobby lobby) and could seriously make about thirty of these from the leftovers. With these too, I'm playing around with sizes and what to use in the center. I'm thinking of trying buttons or the circle flowers from above for the center to try for some different looks.

I put pin backings on the backs of all mine because I plan on using them for myself. Obviously, they can easily be made with hair clips for a hair bow, but since Olivia is refusing bows at the moment, I didn't bother. Plus, it was fun to make something for myself for once.