The Weekend in A few Pictures
We had a nice weekend.
David actually had a real weekend off. Real meaning a Saturday and Sunday off. Yes, he gets like two real weekends a year and oddly enough, we had zero plans.

David somehow roped Grandpa Wayne into coming down to help him build a brick wall for a patio we've (we as in "he") been working on. While the men sweltered outside in this 96 degree, I hung out inside with little bit.

I'm going to go ahead and come completely clean...I suck with giving gifts. We always end up giving each other gifts before the designated day. While I sat there playing with Olivia, I decided that I wanted to give her our birthday gift a week early. It's been hiding in the closet (like she was going to know what it was) for a little over a week and I would be lying if I said I didn't at least once each day think about giving it to her.
So on Saturday afternoon, with David's permission, I broke out our gift.

I pretty much had my mind set on a cozy car for awhile. I wanted to get her something that would last for years and she could play with outside. We decided to buy a brand new one since most of the ones for sale in consignment stores or sales are usually pretty banged up already. We wanted one that would last through a few kids hopefully.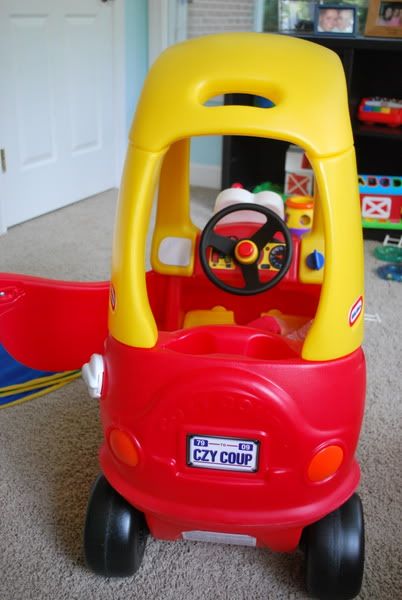 I now see why everyone buys them used...the thing came in a thousand-and-one pieces. It took two of us almost an hour to put it together. I'm sure though having a little someone who kept stealing the screws and putting them in her mouth had nothing to do with it. I promise she didn't swallow any.
I can say that I'm glad we went with it because it has been a huge hit this weekend. She played with it the remainder of the weekend. She's not overly thrilled with being pushed in it yet, but she loves getting in and out of it. She loves just sitting in it with her "ugly" baby and her cell phone.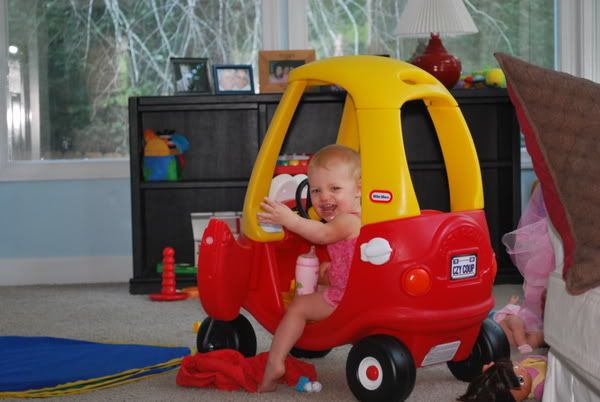 Nana came down on Saturday afternoon to visit and I'm sure had to help her get in and out at least a thousand times. Nana and Grandpa stayed for dinner and some loving on Olivia before bedtime.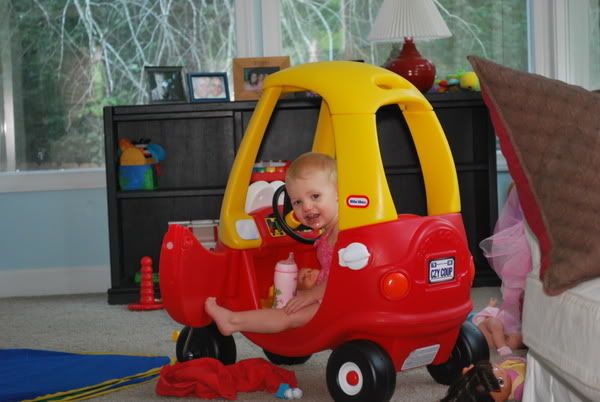 The rest of our weekend was a lazy one since David and Olivia have both come down with colds. We spent pretty much all Sunday laying around the house and getting some rest. It was much needed and we enjoyed the quiet day. This next week we'll be a little busy with Grandma coming into town and preparing for someone's 1st birthday party!!!