1. What's up with my sleep issues?
Thanks to everyone who left suggestions on the sleep issues. The night of the day I posted that post, I ended up staying up till after midnight. Since then, my sleep schedule has varied from going to bed anywhere between 10:00pm and midnight. So, maybe I did just need that sleep. Olivia had started getting up in the middle of the night just before that, so maybe that was really my problem. Also, Kameron wrote that it is actually normal to get nine hours of sleep and that next day I was sitting under the dryer at the hairdressers and read an article in Glamour that you are indeed suppossed to get 7-9 hours of sleep at night. So, she was right and that eased my mind a little. But, I guess that was just a long version of "it's back to normal."
2. What size is OK wearing these days?
I guess this one pertains more to family (unless there are any readers who want to send over some hand-me-downs). OK's sizes are crazy at the moment. Pants are obviously the hardest to fit at the moment. I've found that Old Navy size 18-24 months fit her best. Their long and run small in the waist. If it's any other brand, usually a 18 months works. As far as dresses and pajamas go, usually a size 18months or 24 months. In shirts she's usually wearing a 24 months or 2t. The 2t's fit better because she is long in the waist just like David. If your looking at shorts or skirts, she wears a 12 months. For Fall and Winter, I've been leaning more towards dresses that she can wear over leggings. She seems most comfortable in those and I also usually buy everything in short sleeves. She is hot natured just like her mommy and I figured when it gets cold, I will just layer it over long sleeve tees. Oh and shoe size is a four, but it looks like she's not got much time left in those.

3. Am I pregnant?
I promise this is a BIG NO!!! I have been pulled aside by several people who have asked this. I guess my sleeping issues and a few other posts, have lead to this question. I can tell you this, I was only six weeks pregnant with Olivia when we told everyone in our family. We were super excited and could not keep it a secret. We told everyone weeks before we even went to the doctor to "confirm" it. I can guarantee that we would not be able to keep our mouths shut if we were.

Which leads to the next question...
4. When is the next one coming?
Only God knows the answer to this one. Are we ready for another one? Yes. Though I was on board long before David was, in the last few months, he has joined the "I want another baby" club. I'm sure it's due to the fact our baby will turn one soon and if we stick with our plan of how far apart in age we want our kids, we would need to get pregnant soon. We would love to give OK a sibling soon, but it's in God's hands for when that will happen.

5. Am I keeping my hair short?
No. I liked it the first few weeks, but by the end of July, I was over it. When I went back in August for a trim, I decided to cut it short for one more try, but after that I regretted it. I've decided to grow it back out for now. I wanted something that I would have to actually fix everyday. My hairdresser called it a "grown-up" haircut. I though have come to the realization that I will never be one of those girls who gets up every morning and curls her hair. Even with it as short as it is, I still find ways to put it up. I like my hair better long and since I'm going to put it up anyways, might as well keep it long. So actually, getting pregnant now would help out the growing our process since my hair grew like crazy while pregnant with OK.

6. What's with the tongue thing?
My mom called the other night and asked about this picture.
Actually it was more like "what is she doing and what's with the tongue?"
Who knows? It's our newest thing we're doing and the tongue is out all the time. I'm pretty sure her Auntie Aubry had something to do with it because she's always teaching her to do stuff like that and she's been doing it ever since I left her with her last Thursday for a few hours.

More proof.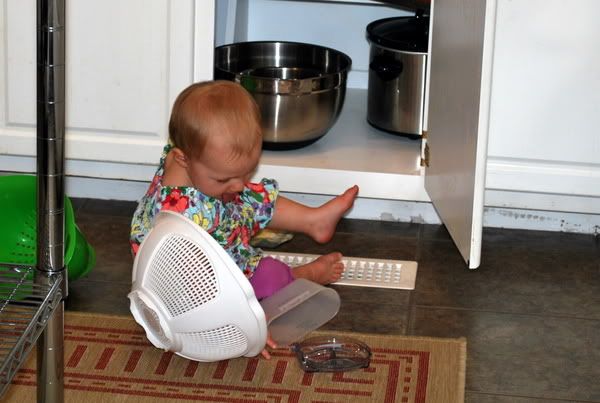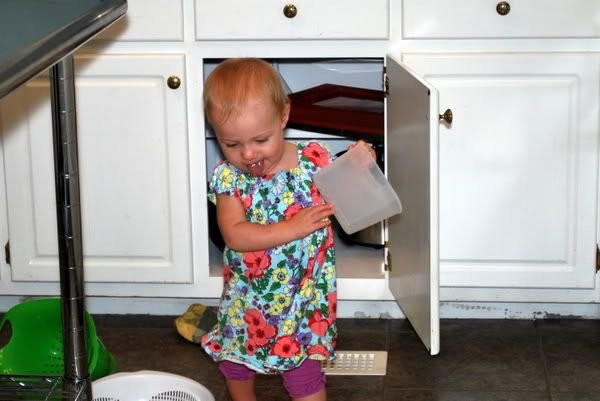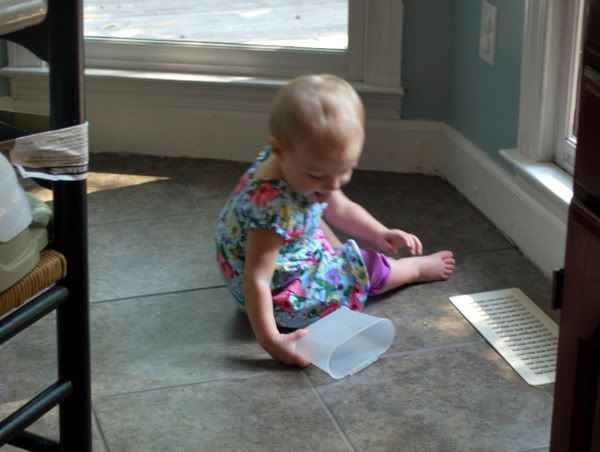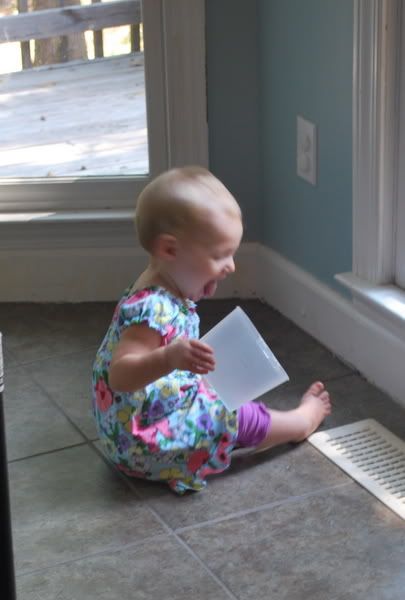 When I pull the camera out and ask for a smile, I get tongue.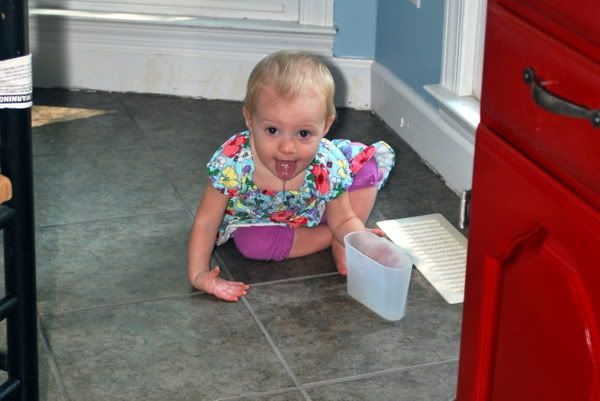 Any other questions anyone is dying to have answered?