Hello, Monday!!! : )
I hate saying it, but this past weekend was one that I was glad to see come to an end.
We had a jam packed weekend.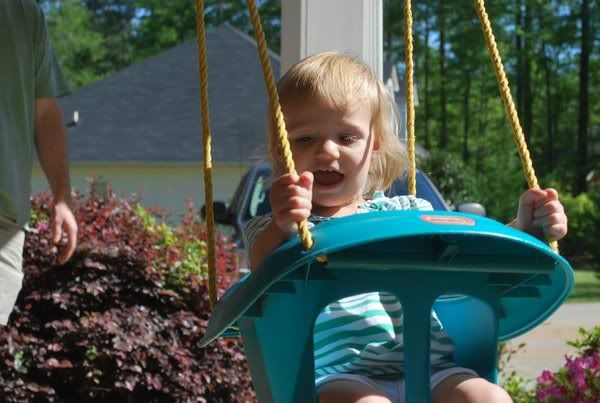 One of those that we didn't even get to sit down to take a breather. I don't mind having stuff to do on the weekends, but I usually like at least one day of nothing. I've decided to use this whole week to recoup. At least, that's going to be my excuse for not doing anything all week. That and the fact I cannot afford gas to go anywhere!!!

We got up early Saturday morning to head out for the memorial service for David's great-Uncle John (thanks to those who left condolences...they were appreciated :)). It was a hard one. We had to take Olivia with us since all our usual babysitters were busy and I ended up spending most of the service in the lobby. They did one of the nicest slideshows at the end of it and I slipped back into the service with Olivia to watch it. At the very end of the slideshow, Olivia started waving bye to the pictures of Uncle John. I know she didn't really understand what was going on, but it still brought me to (even more) tears. It was sweet moment.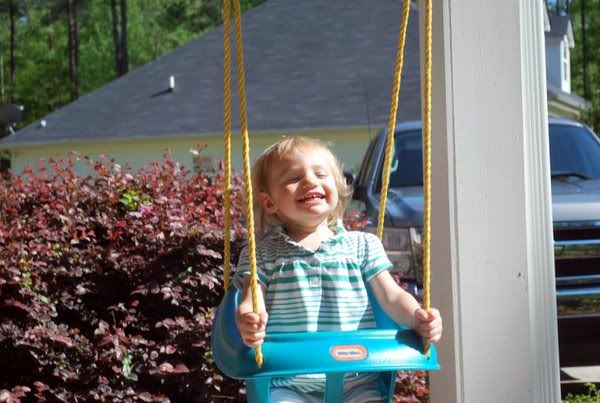 After lunch with the family, we headed back our way to attend the Pope's 1st annual Easter Egg hunt. We got there right when they were finishing the egg hunt, so Olivia didn't get to participate. Luckily, she didn't know what was going on, so there were no tears. I promise to do a egg hunt with her this weekend. The child played her heart out for the rest of the afternoon. She even decided she was going to be like the big kids and get herself up the rock climbing side of the wall on the swing set. I was about to have a heart attack the entire time, but in true Olivia fashion, she refused to go the safer route. The child has no fear! I must say that it was one of the best parties the Pope's have thrown and I'm glad we got the chance to make it. Good Job Nic!!! We were going to try to have dinner with the rest of the group, but Olivia passed out before we got out of the Pope's driveway, so we headed home instead.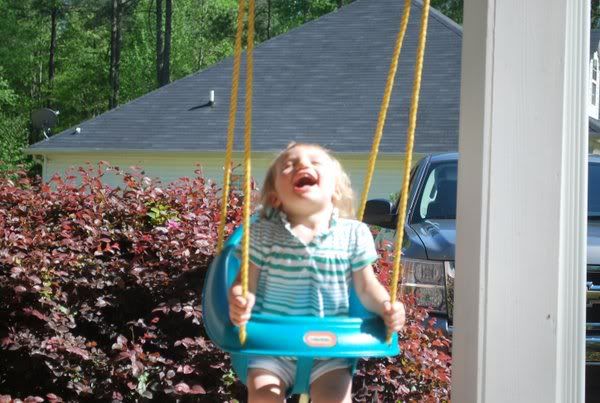 Sunday I helped host a bridal shower for this lovely lady. We held it at our house, so that means I spent most of Sunday morning cleaning the house (the best you can with a 1.5 year old) and getting stuff together. I would say it was a success since almost everyone we invited showed up and thankfully, the bride to be racked up on gifts. Her and Jeremy are like David and I when we got married, we had NOTHING, so every gift helps!!! Thanks to all that came!!!! I didn't get a single picture since I was doing hosting duties. I tried to steal some off facebook, but it wouldn't let me. We're in countdown to the wedding now with only a little over a month to go and I'm getting so excited for it!!!
Afterwards, I was spent. I spent the rest of the evening laying on the couch complaining to Kim how much my feet were hurting. Unfortunately, my complaining must have not worked since she, nor the hubby, broke down and rubbed them for me. Oh well...I gave up and was in bed by nine. Evidently, I wasn't the only one who was worn out from the weekend, because Olivia has spent most of the morning sitting in the gilder watching Sesame Street. Crazy!!!
And no, these pictures have nothing to do with our weekend and blurry, but they are too cute to not post.
How do you like David's pushing skills???
So, that was our weekend in a nutshell. Exciting, huh? I'm off to sit around the rest of the afternoon and do nothing.

Happy Monday!!! : )