Silent Night
After two parties and a little over 30 people in and out this past forty eight hours, our house has suddenly become silent this Christmas night.
We had a wonderful Christmas Eve and Day. The only thing I would have changed was the rain. We had a nasty rain all day long.
I love that we live so close to both of our families still at this time in life. We got to spend both Christmas Eve and Christmas morning with my Dad's side and Christmas afternoon with Davids. We always celebrate the weekend before with my Mom's side.
I can say that we have one spoiled rotten little girl. She got way too much. I told everyone that the girl is obsessed with Play-Doh at the moment and we seriously won't have to buy play-doh for the next two years. It's kept her entertained and quiet for the last three hours, so I'm not complaining.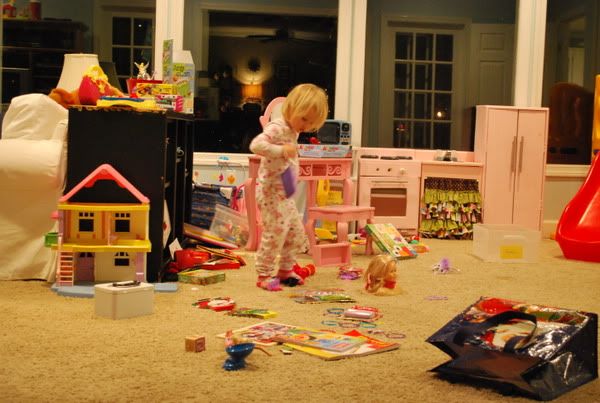 David did have to work all day, but we got to see him when he ran home for two hours. We miss him, but we've gotten use to him not being around on Christmas, so we don't let it ruin our day.
In his own now famous words "it's the life we choose!"
Our Christmas celebrations are hardly from over yet. Tomorrow, I'll be packing for Olivia and I to head up to Richmond to celebrate with our family up there. We'll be leaving David behind and we're my Dad's responsibility for the week! : )
For now, we're enjoying the Polar Express and a quiet house, while waiting up for Daddy to come home. It's already way past her bedtime, but I have a little girl determined to stay up to greet him.

I hope everyone had a wonderful Christmas day filled with family and love! : )