The brood.
Most of you have already gotten a sneak peak on facebook, but I did actually get around to snapping a few pics of our new brood.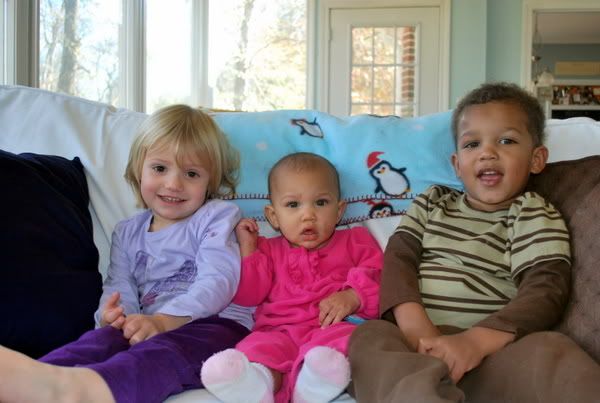 Those two on the end are practically twins. They are seriously just the boy/girl version of each other. They are both very rambunctious and can keep up with each other fairly well.
I decided to send OK to school this morning since we're still paying, and poor mister walked around all morning like a lost puppy. I haven't entirely decided what to do about school, if this looks to be a permanent thing, I will most likely pull OK out (we want to homeschool anyway and she was just going to have something to keep her busy). The biggest issue is they are a couple of months apart in age and they would go on different days, so that would be (I personally feel) a little too much for my plate.
This little miss is doing much better today after a rough couple of days. She however does not like to go down to sleep. She'll sleep when you finally get her to sleep, but she does have a set of lungs and will let you know she is not happy about being left out.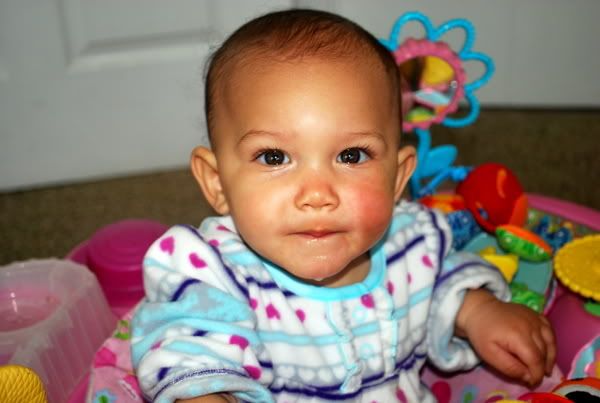 Overall, things are still going really well. We have quickly adjusted into being a family of five and Everyone seems to be adjusting really well. A couple of people have asked and Olivia is a little jealous of the baby at times, but that wouldn't be any different even if I had another of our own. It's natural and I try to let her "help" me as much as I can. A.J. is nothing but her buddy and she has no jealously towards him. All three mornings, she asks if he's up as soon as she pops her head up.
I have learned that this is what you get when you are trying to get the attention of two two year olds....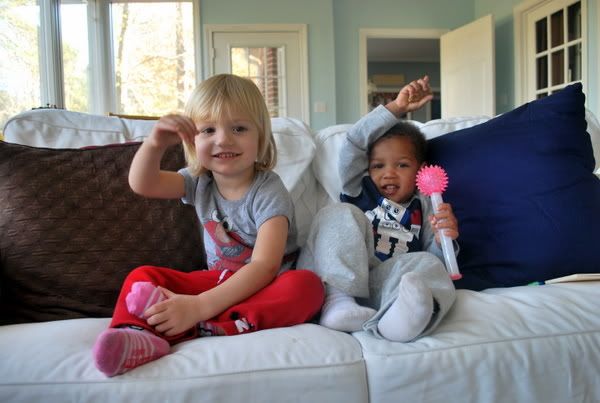 They do nothing but mock me.
They are stinkers.
Thanks for all the encouraging words the past few days. I haven't really responded to many, but I've kinda had my hands full. They are all greatly appreciated! : )
(Oh, and I apologize about all the typos and awful grammar in the last post. I went back and read it later that night and have of it made no sense. However, you know I'm too lazy to go back and fix it all. I was never an English major!)