A Hodge Podge....
Whew....things have finally hit a calm spot in our lives after a crazy few weeks.
Which is kinda ironic since its the week before Christmas and a week that we have something going on every single day.

I am trying hard this week to get back into the blogging mode.

I've started to miss it.
I'm also trying to do better about commenting on some of my favorites blogs, I've been a very bad blogger friend these past few months. Please forgive me! : (
I'll warn you now, this post is just a hodge podge of things we've been up to.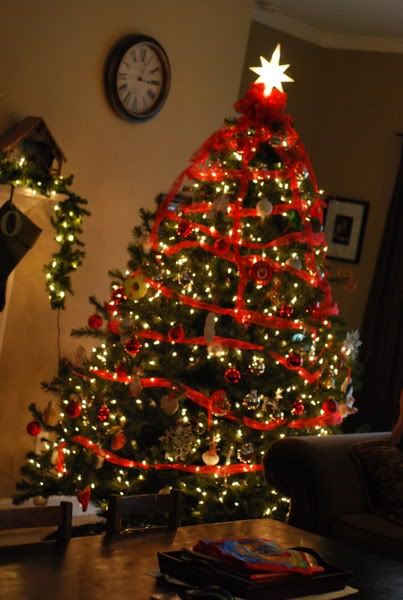 I'll start off by telling you all that we are back to a family of three. I know in my last post, I said we were leaning towards keeping them, but I honestly think that was me trying to convince myself of it. Their caseworker was needing an answer from us of whether or not we wanted to move forward and we asked for the weekend to think about it. Over last weekend, we both we're honest to ourselves that we didn't see this as a long term placement and we wanted to serve our purpose as foster parents to them until they found a new permanent home.

The caseworker was very understanding and said she actually had a feeling that we were leaning towards that way and had already been searching for other prospective parents for the past two weeks, and had several interested. As the week went on, they were scheduled to be moved this Monday, but after several medical emergencies within my family, we asked if it was possible for them to be moved on Friday, to relieve a little bit of stress for me. They agreed and we took them on Friday evening to go to their new home.

We did not get a chance to meet the new parents, but we were told they had no other children and the mom was a nurse, so it sounded perfect to fit their needs. It was a very different return from the whole Destiny thing and we walked out happy for them and at peace with it. We feel like we served the purpose that God intended us to in their lives.
It was a crazy last few weeks, but I wouldn't trade it because I feel like I learned a lot about myself....like that I don't really like having that many small kids so close in age. I give much respect to those that do it, but its not for me. I felt like things were in constant chaos around here and I don't do well with chaos. Blame it on my OCD.
I won't lie...I've also enjoyed the peace and quiet around here the last few days. I like the peace and quiet much more than I thought I did.

Also, Olivia does too. Surprisingly, she was happy to see them go. She has only asked once "where the baby go?" but other than that, she's been happy to have our full attention back.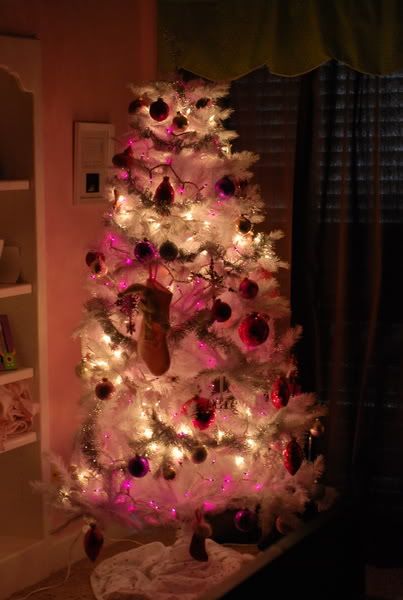 Unfortunately, she came down with some type of cold/virus thing and has been sick since Wednesday. The poor girl has been pitiful the past few days and has been breaking my heart. We've spent lots of time cuddling up and watching Curious George (her current obsession).
We haven't done much "Christmas" stuff these past few weeks since our hands have been full. I haven't really been in the Christmas spirit lately and it was bugging me that we couldn't get out and do the traditions I was so looking forward to starting with Olivia this year. This Christmas seems to be the first one that she somewhat "gets it," but with two others and one being a baby, it just wasn't possible to get out too much. However, I'm quickly getting into the Christmas spirit and have jammed packed our week to fit in as much as we can in the few days we have left.

We started out with getting to attend our first Pope Gingerbread Party. Nicole started this party last year, but Olivia was just too young for it. However, this year she was way into it! I won't go into great detail, because I'm sure Nicole will on her blog. We had a great time and cannot wait to do it again next year. However, all the moms decided that we needed to have our own adult Gingerbread party next year. We are all just a little too OCD and there was a lot of tongue biting when helping the kids decorate! I promise we were good mommy's and let them go to town, even though some of them were mixing icing colors! HA! : )
Besides the gumdrop fence and a little help with the icing, Olivia did pretty much all this herself!

Last Thursday, my Mom kept the kids, while I got to run out and be apart of one of the most important days in this little guy's life...

The Pope's asked Amy and I to be there for Gabe's adoption day and it felt like such an honor! It's been a long (and sometimes rough) eighteen months to make this guy officially a Pope, but I'm so glad our family got to be there every step of the way! It was a short and sweet ceremony, but still had a lasting impact. So happy to have that little man officially ours now!

If your friends with me on facebook, you've already heard....we had a tree accident.
Yes, they are both sporting high heels.
Yes, that is a toy saw in Olivia's hand...whether this was a "calculated" act, it hasn't been determined.

Thankfully, no children or ornaments were broken.