Christmas Continues
Monday morning I got a wild hair and decided to go ahead and put up all our Christmas decor. By noon that day, the decor was up and the house was clean. I usually always wait till after January, but for some reason, I was ready to have it up and done with. I think it sums up how I feel about this past year in general.
However, Christmas celebrations are continuing for Olivia and I. Tuesday morning Olivia and I headed out with the rest of my Dad's family to Richmond, Virginia to celebrate with our family up here. It was a long day of traveling for us, but even after hour 11 in the car, the girl wasn't making a peep. I have never been so thankful in my life.

Olivia and I are both being spoiled all week long. Her with having so many people giving her their full attention and I with being able to sit back and have everyone else wait on her hand and foot. Yes, she's a spoiled rotten little girl, but we cannot help ourselves, she's hard to say no to.

Plus, she keeps calling my dad "Grandma." Its hilarious, though he doesn't seem to think so.

My Aunt Jane's house is probably my most favorite after my own. Her home always feels so cozy and warm. It's always felt like a home away from home.

She's one of those lady's who acts like its no big deal when you ask her about a way she did something or decorated. She just kinda throws stuff on the walls and it always looks good. She does stuff all the time that makes me think "hmmm....what a great idea!"
I wish she'd just come and throw stuff up in my house and make it feel as warm and cozy as her own.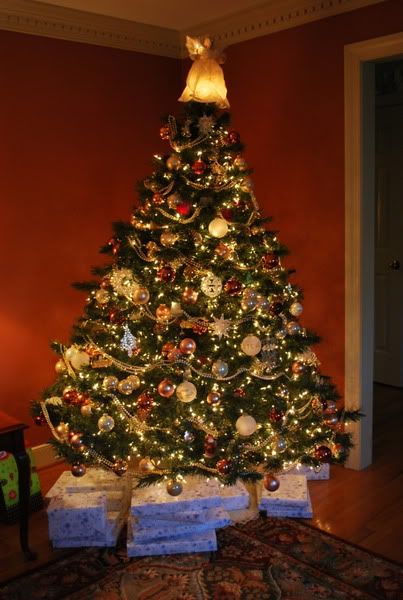 We all know better than to even think about starting to eat right till after the new year. We're having our official Christmas dinner tonight and the menu is insane. I've been tortured by having to sit here and smell all the deliciousness she's been cooking all day. I will be wearing my stretchy pants tonight.
That's her working away in the kitchen. She would have refused if I tired to snap her photo, so y'all get her back side.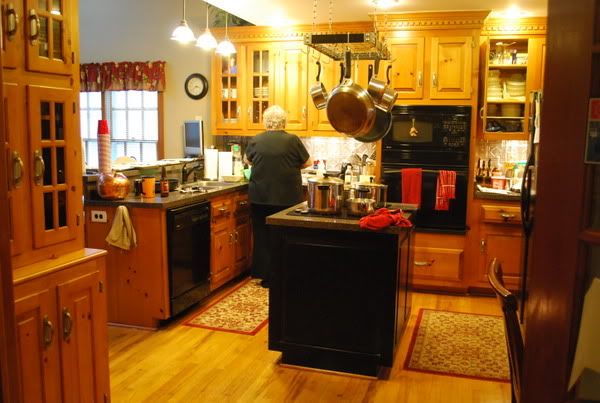 So, that's all I've got. That's what we've been up to these past few days.

I feel like I've hit a writers block after only a week of being back on the blogging bandwagon. Maybe I'll come up with something....