Too Comfortable...
Last night we had dinner with some new friends and if I learned anything from the evening, it's that we've become way too comfortable with our group of friends.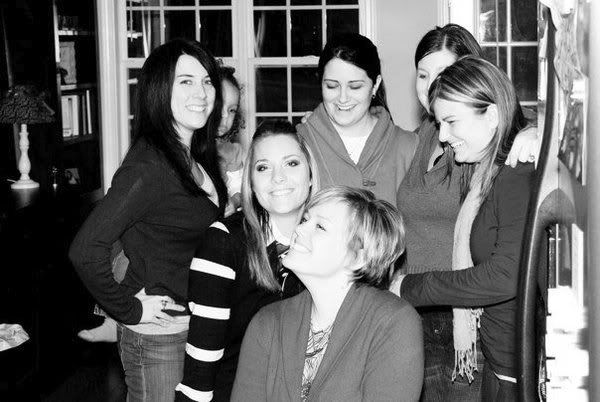 It's been awhile since we've made new friends. We went through a period around the time we got engaged/first married, that we didn't seem to have many friends. It seemed at that time that couples had already married and started having families or marriage and a family were no where on their radar. But a couple of years, we decided we were ready to start our own family, so we didn't mind dinners with babies crying or toddlers running around, so we fell into our current group of friends and have been there ever since.
David had been mentioning for quiet some time that a co-worker/friend and his wife had been wanting to get together to do something. I said sure and of course, he makes plans for one of the busiest weekends we had all year. I told David there was no way we could fit it in, but I've love to hang out with them any other time. So, Dave ends up inviting them to dinner at our house. We had hung out once before, so this wasn't the first time I had ever meet them and things were completely new, but it had been quiet some time, so it was kinda like starting over and this was the first time they had ever been to our house.

Well.....I managed to make an inappropriate racial comment at dinner (it was one of those things I should have kept my mouth shut, but just keep talking), I poured myself a drink when they came in and didn't think to offer (thankfully, David did), I didn't even think to ask what they liked to drink, so all I had to offer was apple juice, water, and milk, I didn't even make something new for dessert, I just offered left over cupcakes....needless to say, obviously I was on top of my hosting game last night.

As soon as the door shut, my husband looked at me and basically asked "what was up with you tonight?"
In my defense....I had had a semi rough day with Olivia (Mondays are always rough after a crazy weekend). She woke up at usual 7am, but didn't get down for nap till after 3pm...enough said. It is my time of the month and I hadn't been feeling well from that all day (I'm sure that TMI, but I consider it an factor in my off-ness last night). Plus, we had just finished with a crazy busy weekend.
My argument to David was that I think we've reached the point with our friends that we're just way too comfortable and I was not ready to be thrown back into the new friend world.

I'm use to friends and family who come in through the garage door while stepping over toys and sand tables, not the front entry way that's still half painted.

Friends who know where everything in my kitchen is and know to help themselves. Friends who I know what they eat and don't eat, so I don't even have to ask what to serve. I can go to any of my friends house, open the fridge and not think twice about getting something out and of course, them the same at mine.

We have days when we hang out and show up in our pajamas and no one comments or thinks twice about it.
Friends who can walk in my house and see a mirror hanging with the clearance sticker still on it and know I'm not crazy, still just deciding if I like it enough to keep it.
I'm just rusty in the making new friends behavior.

Overall, I don't think I ruined the entire evening. They stayed for a few hours and even said they wanted to have us over for dinner, so maybe I didn't totally ruin the possibility of a long term friendship. Especially since I'm pretty sure David wanted to kill me after they left. I really like the couple and seriously, love the wife!!! She so easy to talk to and so fun, I think my friends would love her too! But, I'm sure I didn't make a good second impression.
Today, I'm so thankful for my "too comfortable" friends. I'm glad to make new friends, but evenings like that make you even more appreciative of those "too comfortable" relationships! : )
I do however need to work on my making new friends skills, since David came home this weekend to tell me a new guy is starting at work and he thinks he and his wife would be fun to hang out with. Here's hoping to a better impression next time! : )