Bittersweet
Friday night, we got to do something we hadn't done in years...we spent Friday night under the lights. In particular, we spent it at our old stomping grounds.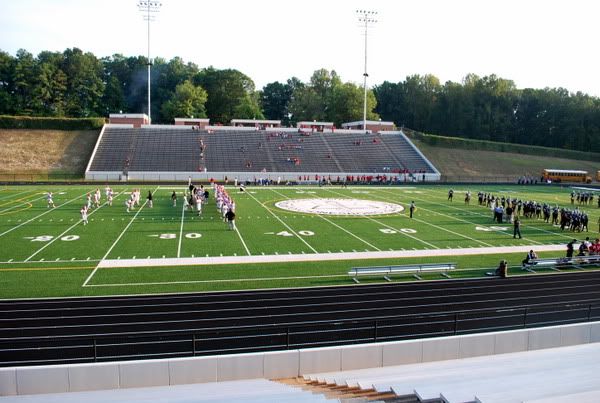 A little history, David and I were the football player/cheerleader couple in our class. Cheesy, I know.
Our senior year, our football team was actually really good. Good enough to go all the way to the state championships. We didn't win the ultimate title, but there were a lot of odds stacked against us that game(and that's a whole different post). Regardless, that infamous season has remained with anyone who was there to witness it. Its often is reminisced by classmates that we run into around town, parents that spent every Friday night on the bleachers, and anyone else that was there to see our little team go all the way. It was the first time it happened in the history of the school and the last time since.

A couple of months ago, David got a call from one of his old teammates. One of the guys we graduated with, is actually the head coach now and they are trying to get up support for the current team. They decided to have a cookout and recognition ceremony the first game of the season, for the guys from that still talked about football season. David really wanted to go, even though he was in bed sick almost 24 straight hours before.
Only a few people showed, which we kinda expect, but David and the guys still got their ten seconds of fame on the fifty yard line.

I was blown away though at how much things had changed in the eleven years since we've been there. It was all kinda bittersweet.

This was the visitors side right before the boys were getting ready to run out of the field.

Our side wasn't looking much better.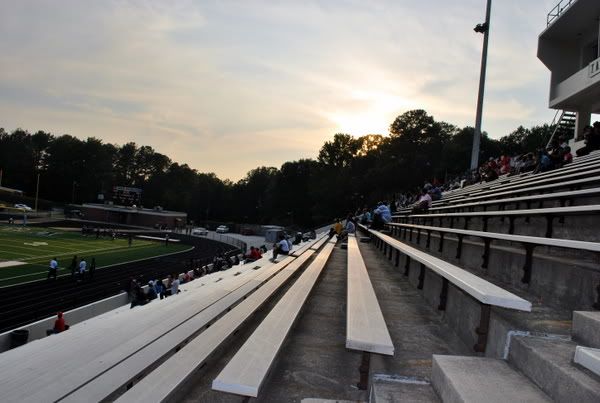 In all the years we played, I cannot remember a time kicking off to an empty stadium.
Maybe it's the momma in me now, but my heart broke for those boys on the field. They may not be the best team in the state, but they practice in the 100 degree heat just like everyone else for hours, and no body was there to show their support.
David's parents came too and the first question they asked..."where are the parents?"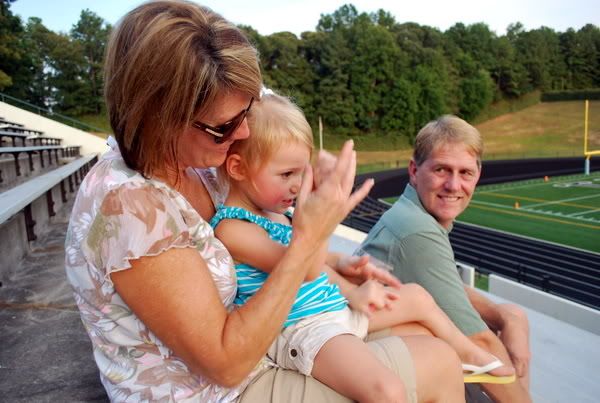 My parents, nor those of our teammates, ever missed a game. Our parents were always our biggest supporters and believe me, there was not enough people in the stands to equal even one parent for all the boys on the team. It was pretty pitiful. Like I said, my heart was breaking for those boys (and cheerleaders).
It was also Olivia's first football game and I was surprised with how long she lasted. She was of course in awe of the band.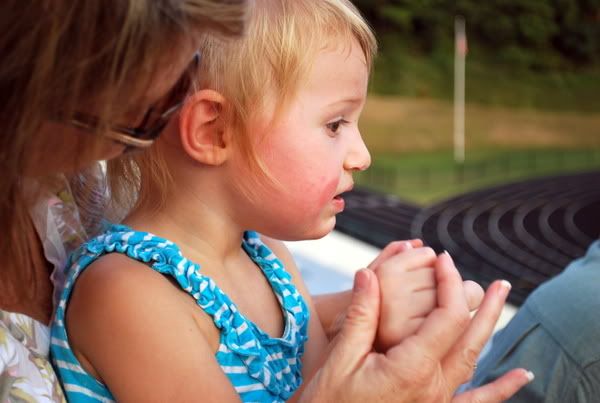 I can say that there was some improvement since we've been there....the band is sounding a lot better these days.
I use to spend my game nights standing in that exact spot. It seems so long ago now.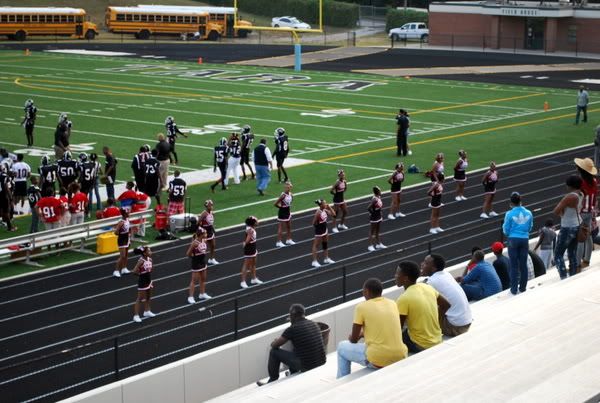 Unfortunately, the visiting team scored on the first kickoff. Its never a good sign when the score board looks less than a minute in the game.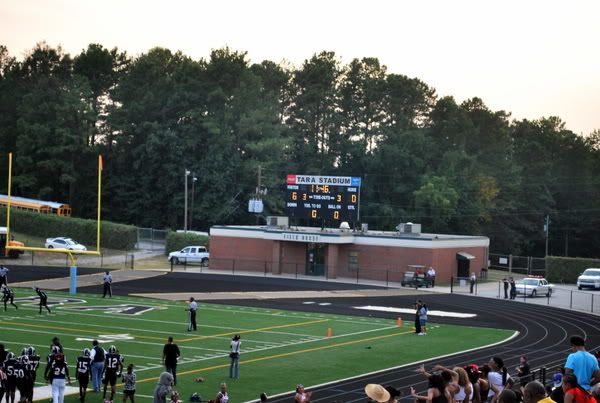 Things didn't get much better after that.
We planned to make it till half time, but Olivia couldn't hold out. It was hot and she spent a good hour before the game playing with other players kids. Yes, it was weird that out of the players there, we had the youngest kid and it still seems strange we're all old enough to have kids.
Thankfully, by half time, the stands were looking a little fuller.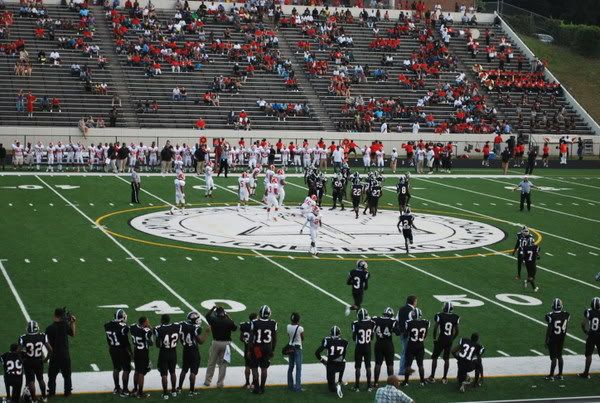 I can say that going made me miss Friday nights. There's just something about spending those nights under the lights. Not just for the kids, but the parents also. No, I don't want to be back in high school, but it would be fun to go as a parent one day.