The Weekend.
We had a pretty low key weekend around here.
Friday night, Olivia headed to her Nana & Papa's to spend the night, while I headed over to Nic's for a much needed girls night. David was working if you didn't already guess.
We have no pictures from our girls night. It was pretty low key for us. A couple of people have asked me what we did....Amy made hairbows, Nicole and I played on Pinterest and spent the whole evening yelling across the table "hey...did you see that pin..." I headed home around 2am and have to be completely honest that I was terrified of being pulled over because ANYONE out driving around at 2am is doing something suspicious, right? It's been years since I've been out driving around at 2am. I was totally surprised to see the bar still hoping and lots of other cars on the road. I'm sure that will be my last 2am for a while.
David got permission to get an extra day off this week since he had to work on both of his off days, so Saturday morning we slept in and spent the morning on the couch watching movies on tv. It's also been two years since we've done that. After being lazy all morning we got up and went on a lunch date to Longhorns. We spent the entire meal talking and not once did one of us have to get up to take a little person out of the restaurant.

It was heavenly.

Oh, the little things that you take for granted when you don't have kids.
Sunday we had a friends birthday party to attend to, but I had spent most of the afternoon battling Olivia to lay down for a nap. By the time I got her down, it was too late to head to the party. We are having a really hard time with naps lately. And please don't say "maybe she's phasing them out?" She just turned two...she needs them, believe me. Her attitude shows it. It's literally a battle every day that leaves me emotionally drained. I hate to admit it, but most of the time I let that couple of hour battle leave me with the mindset that we've had a bad day. When in truth, besides nap, it was pretty good.

I've been hearing horror stories about three...if two is this bad, I cannot imagine.

I love this child, but she is a force to be reckoned with.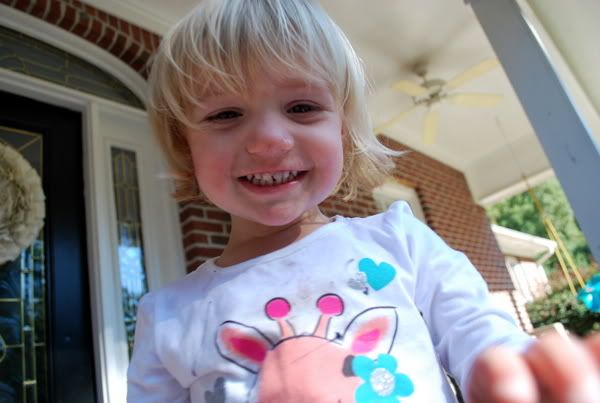 We have a busy week ahead of us that ends with another weekend with not much planned. Is it sad that I'm already looking forward to the weekend?
I may start pulling my Christmas stuff down. Yeah, I'm one of those people. According to several of my facebook friends, I'm already behind.

I'm excited about the holiday season this year. Olivia is at such a fun age for it all and we're starting some new family traditions this year. I'm excited!!! : )
Bookclub is at my house tonight, so I need to get off here and start being productive.

Happy Monday! : )