Our weekend, Halloween, and other randomness
This week is getting away from me. Isn't is crazy how some weeks can seem to drag on and the next seem to fly by??? I was starting to feel a little bad about just now getting to posting on our Halloween, but I had a few post in my reader this morning that were titled Halloween, so those feelings passed.
Our Halloween celebrations actually started on Thursday when I joined Olivia at school to celebrate with her pre-school class. They had a special snack and we got to go with them to trick or treat from classroom to classroom. I should've known that Olivia was going to attach herself to me the moment I walked in the door. Her teachers assured me that she is miss. Independent when I'm not around, but she refused to allow me to put her down. She did however decide it was okay to let go of mommy when she realized she was getting candy from the other teachers. Also, she refused to wear her cut piggy costume. I fought with her a minute, but I knew it was a losing battle. I should've known she wasn't going to go for it.
The rest of our Halloween celebrations continued through the weekend. Friday night we meet up with the Popes at a local church Halleluiah Night. These two had a blast running from game to game and bounce house to bounce house. That whole day, I honestly wasn't too up to going and was honestly hoping it would rain like they said it was going to, but Olivia had a great time, so I'm glad we ended up going. Notice we had a costume change from Thursday to Friday. Thankfully someone gave OK a UGA cheerleader outfit for her birthday, so I didn't have to come up with another last minute idea. She actually loved the outfit and was excited about being a cheerleader, though I know she has no clue what a cheerleader actually is.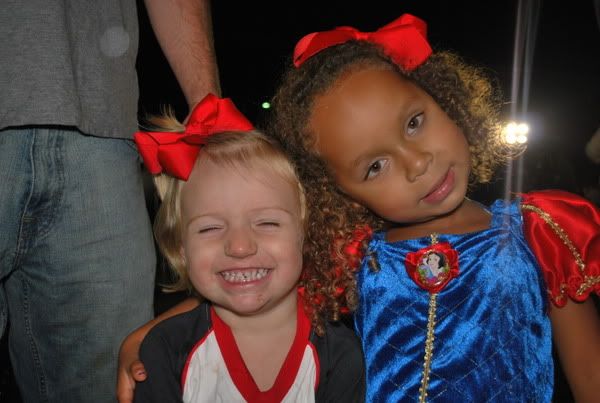 Saturday morning, Olivia and I spent the morning laying new pinestraw in our flower beds. After a lazy summer, I've slowly been getting back on track with workout regularly, but spending an entire morning doing yard work can wear you out. I was seriously feeling it on Sunday and even still today....maybe it's a sign I need to up my working out?
That evening, David's parents came down and we had an early dinner at one of our favorite local restaurants, 6th Street Pier. We love the atmosphere of the place and the food is delicious too! I'd highly recommend it for any locals reading. It's the first time we've taken OK to a "nice" restraunt in awhile and surprisingly she did awesome. Yes, it helped we went at 5pm and no one else was there, regardless, it was so nice to sit down and actually enjoy a decent meal. We ended our evening with David and his dad working on one of our cars, while my MIL and I built a fire, ate cookies, and watched Hocus Pocus. That's about as scary as we get at our house.
Sunday morning, Olivia and I met my Dad for breakfast at Cracker Barrel. Unfortunately, Olivia can only have one sit down meal a week. Luckily, we made it through but she refused to leave my Dad's lap.
We spent the rest of the day just hanging out at home. To be honest, I was having a rough day and it was just one of those days I was in a funk all day and nothing could shake it. As soon as David walked in from work, I just started bawling for no good reason. I just feel like all my emotions from the last few months are catching up with me. Sometimes though, I just need one of those days. Plus, since turning two, Olivia's stubbornness has seemed to be extreme and I feel like its a battle of will all day long and I'm just emotionally exhausted at the end of every day. I thought she was into everything and stubborn before...well, two is kicking my booty. I'm honestly dreading three because I've been told over and over again, three is worse than two.
One upside to my Sunday is I finally got the chance to meet this precious girl!!!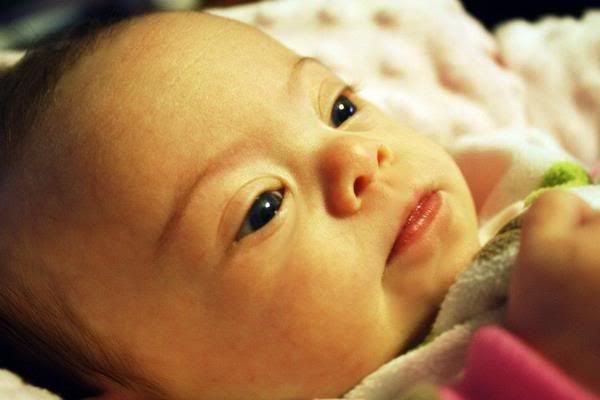 She is
Amy's
cousins daughter and I've been dying to get my hands on her from the moment Amy sent me a text pic of her when she was born. She is seriously the most precious thing in the world and I cannot get over how tiny she is! I don't get baby fever too often with newborns, but she definitely had me smitten. If I knew that I could have gotten away with it without having every member of Amy's family tackle me to the ground, I would have walked out with her in my arms. I was good though and handed her back over to her mommy.
Our actual Halloween was pretty low key. We made it to kids gym that morning and then made a target/starbucks run since they are right by the gym. Olivia however refused to nap that afternoon, so when it came time for us to leave to meet our friends to trick or treat....sister was LOSING it!!! So much so that even David was losing it with her and those that know us IRL, know that's rare. So, we decided to skip the actual trick or treating again this year and hand out candy instead. We had a ton more trick or treaters this year than last year and in less than two hours, we had ran out of candy and had to turn out the lights and hide. I bought over two hundred pieces and then even had to give up my bribe sucker stash I keep for OK. Olivia once again this year loved handing out the candy and kept yelling at the kids to come back. It was pretty cute. I'm hoping I can keep convincing her that it's more fun to hand out candy than receive it. It's nice to not have to worry about us pigging out on candy for the next month. I didn't get any pictures from the evening. Apologizes to the grandparents! : )
I've been keeping it to myself, but I've been having some trouble with my right eye lately. A few months ago, I had a little black spot appear in my vision. Of course I googled it and it's one of those things that is either nothing, or pretty bad. I kinda let it go with all the crazyness of the summer, but that eye has started feeling strained lately and bothering me a lot. I finally admitted to Dave what was going on and finally got the nerve to make an appointment with the eye doctor. If you don't know, I have terrible vision. It's finally started to even out these past few years, but I would be lying if I said that one fear of mine is I eventually lose my eyesight. It's really been that bad at times. Put it this way, at one point and time, I was told that I would probably have to have lasik but still have to wear glasses and contacts. I was upset because I thought it was starting to get worse again. David was a sweet husband and went with me this morning and I was a nervous wreck the entire way. I was completely honest with the doctor with what all was going on the symptoms I've been having. He checked me out and even dilated my eyes, but said that my prescription was actually exactly the same and my eyes looked good.
He said that I did have a "floater" in my eye, but that was completely normal for anyone with bad nearsightedness. He said that he in fact had a few in his vision. He said as far as my eyes went, he had no concerns and said that honestly sometimes our eyes will just feel strained for no reason and then it will just pass. We narrowed it down to the fact that it could be due to stress or the fact that I wear my contacts way too long during the day and its eye fatigue. I finally got around to buying a new pair of glasses after having the same pair for ten years, so hopefully that will help. He said to give it a little more time after I get the glasses and if it wasn't any better, than I should go to my regular doctor to look into other things. So, I left feeling better about it all, but still praying for it to correct itself.
Our calendar is quickly filling up and I'm excited about all the holiday events that are starting these next few weeks! I should hopefully have lots to blog about! : ) I'm SUPER excited about a girls night we're having weekend!!! It's been a long needed night!!! Hopefully things won't get too crazy! ; )
Also, say a prayer for my bestie
Nicole's
brother this afternoon. He's having some major surgery as I type this and though I have full faith that he's going to make a full recovery, prayers are always needed! Thanks! : )